Job creation and investment at the core of Scottish Programme for Government
---

---
The Scottish Government is to set up a national training fund and jobs investment plan to support people at risk of redundancy or unemployment and create new jobs as part of Scotland's coronavirus recovery plan.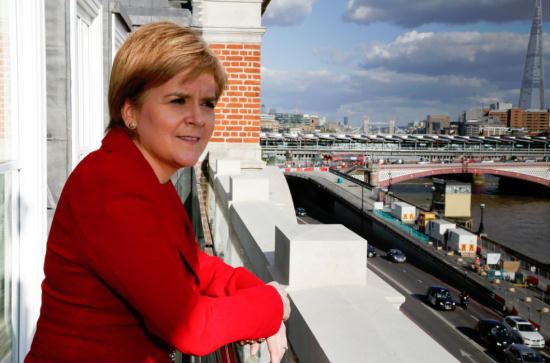 Unveiled by First Minister Nicola Sturgeon during the Programme for Government 2020-2021 statement to the Scottish Parliament yesterday, the National Transition Training Fund will support up to 10,000 people at risk of redundancy or unemployment while the £60 million Scottish Youth Guarantee will ensure every young person has the opportunity of work, education, or training.
The Youth Guarantee will be targeted at those most in need of support, to help them make the transition into work, education, or training. Every young person aged between 16 and 24 in Scotland will be guaranteed either the opportunity to study at university or college, take part in an apprenticeship programme, take up a job or work experience, or participate in a formal volunteering or training programme according to their own personal circumstances.
To support the guarantee, the Scottish Government will invest up to £10m in DYW Regional Groups to support more young people to access the labour market, strengthen their links with employers, and create more opportunities to employ young people.
It is also providing £10m of funding for up to 8,500 individuals to complete or start an apprenticeship, including additional funding for the Scottish Government's Adopt an Apprentice programme which provides a financial incentive to businesses to employ an apprentice who has recently been made redundant.
The Scottish Government has also introduced its new Job Start Payment, providing £250, or £400 for people with children, supporting around 5,000 young people a year starting a new job after a period of unemployment
The First Minister also announced that a new £100m Green Jobs Fund will be created while a new Inward Investment Plan will create 100,000 high value jobs over the next decade and boost Scotland's GDP.
The £25m National Transition Training Fund will launch in autumn this year and support up to 10,000 people. This will provide rapid, high‑quality and targeted support to people facing redundancy and unemployment in those sectors and regions most exposed to the current economic downturn. Individuals eligible for funding will be in control of their training plan but supported by careers advisors with knowledge of regional job opportunities. The training will be aimed at helping individuals develop the skills required to move into sectors with the greatest potential for future growth and job opportunities.
The Scottish Government has also doubled funding for the Flexible Workforce Development Fund to £20m.
The £100m Green Jobs Fund is part of a £1.6bn low carbon funding package to secure a just transition to a net zero economy, including investment in heat and energy efficiency and industrial decarbonisation. This will invest £50m through Scottish Enterprise, Highlands and Islands Enterprise, and South of Scotland Enterprise to help businesses which provide sustainable and/or low carbon products and services to develop, grow and create jobs.
A further £50m will be invested to support businesses and supply chains across a range of sectors - such as manufacturing, tech, and land-based organisations - to take advantage of public and private investment in low carbon infrastructure, and the transition to a low carbon economy in Scotland and beyond, boosting green employment.
Tracy Black, CBI Scotland director, responded to the announcement: "Business shares many of the broad priorities identified by the Scottish Government, including job creation and focusing on a sustainable recovery. Firms now want these high-level ambitions translated into real action.
"Against the backdrop of rapidly-rising unemployment, initiatives like the Youth Guarantee and a Transition Training Fund could play an important role in creating much-needed opportunities. But speed is of the essence, particularly with the job retention scheme ending after October.
"Ultimately, Scotland's economic recovery depends on the Scottish and UK governments pulling in the same direction and working with business to focus on jobs, skills and opportunities for young people. There isn't a moment to lose."
Dr Liz Cameron, chief executive of the Scottish Chambers of Commerce, added: "The onus is on all of us to build back and the sooner we start the better. The Scottish Government's Programme for Government has some ambitious aims that we welcome. Now we need to see how these proposals will be implemented and when.
"There is no doubt in anyone's minds how important it is to keep the spread of the virus at bay but of equal importance is ensuring the sustainability of our livelihoods and the strength of our jobs market. We need to ensure equal amounts of energy and investment are focused on the survival of our businesses now as well as into the future.
"A joined-up approach from private and public sector is absolutely essential to tackle the global challenge of climate change and the skills needed to deliver net zero ambitions. The Green Jobs fund - alongside support for decarbonising domestic and industrial heating - is a welcome statement of intent.
"We look forward to seeing the detail of how businesses of all sizes will be able to access support to upskill their employees through the extended Flexible Workforce Development Fund."
David Lonsdale, director of the Scottish Retail Consortium, said: "We are delighted the government has taken up our proposal and committed to working with the industry to develop a Scottish retail strategy. Even before the onset of Coronavirus and the immense challenges it poses, the retail industry in Scotland was undergoing seismic transformation thanks to profound structural and economic changes. This positive commitment should result in a more strategic approach towards supporting and nurturing the growth of the industry, Scotland's largest private sector employer, helping it fulfil its potential over the decade ahead. This will benefit retail, the customers it serves, and its supply chain."
"The decision to push back the next commercial property revaluation by a year will at least ensure that firms' rates liability reflect the post-COVID economic reality. However, the immediate issue for retail is avoiding April's 'reverse cliff edge', when 100% business rates are scheduled to be reinstated. With the industry having lost £2.1 billion of sales over recent months and with retailers' revenues continuing to fall short, such an imposition is unsustainable. We will be looking to the Scottish Budget to ensure rates are phased in to prevent an immediate and unaffordable spike in costs."
Andrew McRae, FSB's Scotland policy chair, commented: "It will be easy for the Scottish small business community to get behind many of the measures that the FM outlined today.
"For example, for years FSB has talked to the need to develop resilient local economies with smaller firms at their heart. A good way to do this is to increase the share of public contracts that smaller firms win, especially those attached to any decarbonisation programmes.
"It also makes sense to increase the amount of economic activity in our towns and cities during the day, so the development of local work hubs, or more co-working spaces, in local communities could pay dividends."
He added: "The First Minister also put jobs at the top of her government's agenda. That's absolutely the right move, though every initiative needs to have small businesses at its core. That's because, after the last crash, nine in ten people who moved from unemployment found work in either a smaller business or through self-employment.
"Similarly, action to help workers and businesses adapt to the digital revolution – now accelerated by the current crisis – is most welcome. We know that one in seven Scottish smaller firms innovated during this crisis and we need to lock in those gains.
"Our big concern is that few of these initiatives will kick-in overnight and at least some businesses are reaching the end of the road. We may still need new short and medium term measures to help important local firms through this period of crisis."