Barclays: Edinburgh the UK's happiest city for homeowners
New research from Barclays Mortgages has found that families in Edinburgh are the happiest in the UK when it comes to their homes, with 93 per cent of parents saying that they are happy in their current properties.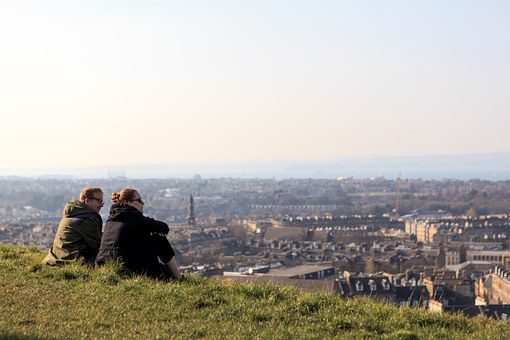 The top reasons families in Edinburgh said they like their home included the area, not being too noisy (58 per cent), it has outdoor space (58 per cent) and their children have their own rooms (52 per cent), therefore suggesting that their property meets all of their family needs.
Tech savvy families in Edinburgh were also the second most likely in the UK to say that they liked their home due to the speedy wi-fi (31 per cent), after Liverpudlian families came out top (35 per cent).
---
---
Families in the Welsh capital of Cardiff came in a close second for liking their homes (87 per cent), while Geordies (86 per cent) came in third place. The reasons why they like their homes are quite different however, with Geordies prioritising the local shops (43 per cent) much more than those in the Welsh capital (30 per cent), as well as being close to a good local takeaway - 17 per cent in Newcastle versus 9 per cent of Cardiffians.
Meanwhile in London, the findings show that homeowners are happy in their homes (83 per cent) but perhaps unsurprisingly due to the cramped nature of the capital, they are the most likely to complain about lack of space.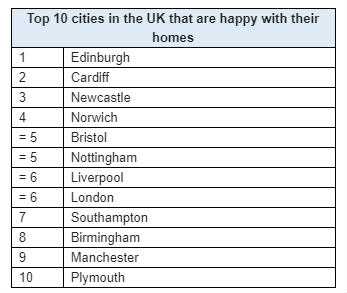 Interestingly, there were some quirky differences of opinion across the country as to what makes people happy in their homes. One in four Liverpudlians (25 per cent) like their home because it is near a great takeaway, compared to the national average of 16 per cent, while one in five (19 per cent) of parents in Sheffield like their home because of the local watering hole, which is five per cent higher than how we feel nationally.
In Bristol, 13 per cent said they dislike their home because of bad water pressure in the shower, compared to a national average of 8 per cent. Overall, 83 per cent of British homeowners were found to be happy in their current home, yet almost half (45 per cent) would still consider moving.
It's clear that homeowners will often have a love/hate relationship with their homes. Before making the big decision to up sticks and leave, it's important for parents to weigh up the pros and cons of moving home vs. remortgaging and staying put.
TV personality and property expert, Lucy Alexander, has partnered with Barclays Mortgages to share her top tips on how homeowners can make the best of their current home, for when moving or upgrading simply isn't an option.
She said: "It's important to remember that, even if we like our homes, there are always ways in which it could be that bit better. Rather than upping sticks and going to the effort of moving home, there are simple ways to improve the home you're in, often by making some really small adjustments."
Hannah Bernard, head of mortgages at Barclays, said: "It's well known that us Brits invest a huge amount of energy and money in our family homes, so it's no surprise that we're a nation of true home birds. The findings of our research show that families in the top three cities for happy homeowners in the UK all share a love for spacious homes, which is in keeping with the nation as a whole.
"Sometimes a lack of space can really have an impact on how you feel about your home, but if other factors such as being close to your family and friends and liking the neighbourhood you live in mean that you don't want to move, it's important to remember that space is something that can be resolved with improvements rather than needing to move to somewhere completely new.
"Whether you love your property and are staying put or are looking to up sticks and move, we understand the different factors that go into this difficult decision and want to help families stay in control of their finances as they plan for a change in their home – whether it's a big move, a remortgage or home improvements."