Big Issue vendors to accept contactless payments
Sellers of The Big Issue across the UK will now have access to cashless technology in a bid to boost sales.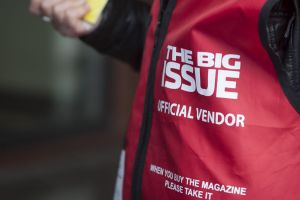 Vendors will be equipped with mobile payment terminals thanks to a new partnership with tech firm iZettle.
Cashless payments now far outweigh cash transactions, with one in five Brits ditching notes and coins entirely, while tapping a card against a reader accounted for 5.6 billion payments last year.
---
---
Russell Blackman, managing director of The Big Issue, said: "It has long been our intention to provide our vendors with the opportunity to cater for their customers' needs and increase their ability to earn a legitimate income.
"The Big Issue looks forward to, in partnership with iZettle, rolling the initiative out nationally, in an effort to improve levels of financial inclusion for vendors, who often live lives that are blighted by poverty and who have difficulty accessing mainstream financial services and products typically offered by retail banks."
The rollout will be taking place across the UK, after a successful trial period which ended earlier this year.
Two vendors taking part in the trials reported they made around 80% of their sales via cashless payments and on average 25% of the vendors' total sales were cashless payments via iZettle readers.