Ex-RBS boss calls for state-backed loans write off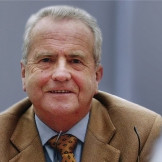 Sir George Mathewson, the former boss of the Royal Bank of Scotland, has urged the UK Government to write off all state-backed loans to businesses to give firms a better chance of survival during the coronavirus pandemic.
Sir George said that the government should fund the giveaway through increased borrowing.
He said: "The government has to realise any funding for companies now is disaster relief, nothing less. We need to ensure that all our businesses in Scotland survive this crisis, and that will not happen by giving them loans. The government needs to give them money and write it off. Failing to support business now means it will take years to build back the economy."
---
---
Whilst heralding in a new era of unprecedented government spending, Chancellor Rishi Sunak has also tried to minimise the government's direct exposure by channelling most of the aid through Treasury-backed loans.
The Office for Budget Responsibility has estimated that the cost to the exchequer of its emergency funding could hit £271 billion in this financial year, The Times reports.
However, Sir George Matheson insisted that increased borrowing through the bond market at ultra-low rates was the most sensible option to protect the economy in the long term.
He concluded: "Interest rates are half of nothing. People worry about costs, but our liberty is threatened by this crisis, and that requires bold thinking."
Read all of our articles relating to COVID-19 here.