Greenshoots: Orkney's Westray Bakehouse moves into new factory
One of Orkney's oldest family bakery firms has moved into a new purpose-built factory on the island of Westray in a bid to boost production and meet growing UK wide demand for its traditional products.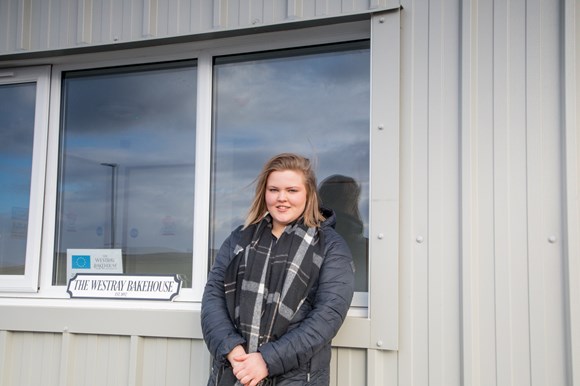 WFM Brown Ltd, which trades as The Westray Bakehouse, was established on the island in 1892 and is run by fourth and fifth generations of the same family.
The £900,000 factory project has received just over £73,000 in funding from Highlands and Islands Enterprise (HIE). The project is also supported by the Scottish Government's Food Processing, Marketing and Co-operation Scheme.
---
---
The company supplies bread and rolls to outlets in Orkney, but its range of biscuits has been proving increasingly popular with customers throughout the country.
Although the firm had already invested in modern production and packaging machinery to try and meet this demand, its former bakery near Pierowall village had limited space.
The new Westray Bakehouse premises – built close to the old bakery at Gill Pier - are three times as big and will allow the business to ramp up production, explore new opportunities in the UK market, and create vital local jobs. The firm currently employs 11 people.
Louise Drever, managing director of WFM Brown Ltd, said: "Although our old family bakery building was much loved, the lack of space was making it difficult for us to fully realise the potential of our business. We're therefore really delighted to finally be in our new purpose built factory, with production up and running again after a very short changeover period."
Mrs Drever said she was particularly excited about the opportunities the new factory presented in terms of exploring fresh UK markets for the bakery's traditional island made products.
She said: "Our biscuits sales, which at one time were a small percentage of our business, are fast overtaking our sales of bread and rolls. Every week we supply on average three pallets of biscuits, with 90-120 boxes per pallet. One pallet goes to a distributor in Dunfermline who then sells them all over the UK and one goes to a distributor in Shetland. On top of that we supply shops all over Orkney. Now, with the new equipment and space, we can capitalise fully on the demand opportunities.
"It's been a very long road getting to this point, with the unexpected challenges of the coronavirus pandemic to deal with too, but we're now looking to the future of the business."
Maureen Shearer, development manager at HIE's Orkney area team, added: "The Westray Bakehouse's new factory will future proof this long established Orkney business, ensuring it can reach more key markets beyond the islands, while continuing to serve its loyal local customer base. The project also plays an important role in the economic wellbeing of Westray, protecting and creating vital jobs, and offering new opportunities for future generations of island bakers.
"The past year has been exceptionally challenging for Orkney businesses, just as it has been for firms throughout the country, but The Westray Bakehouse project is a positive move by a local producer, keen to look beyond the crisis to better times."