Inverclyde entrepreneur targets international growth after Shipyard Gin launch
A Gourock-based gin brand, inspired by the heritage and craftsmanship of historical Clydeside shipbuilding, is gearing up for overseas trade following a successful launch that saw more than 1,000 bottles snapped up in its first few weeks.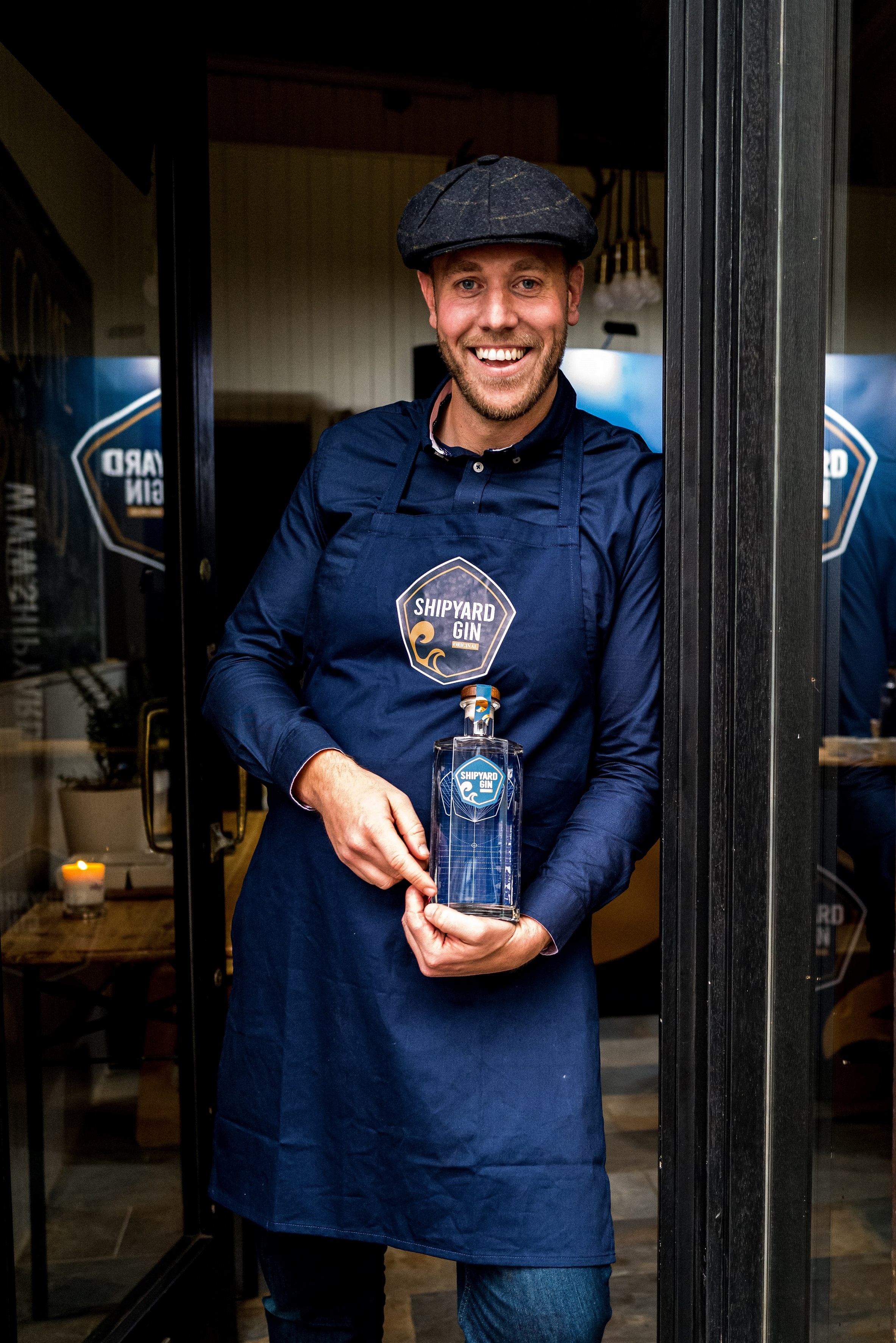 Andy Samuel, the founder of Shipyard Gin, is now in talks with a number of international distributors and clients that could see a significant increase in demand for the spirit over the coming months.
To support with the initial production of such large volumes for a small-batch gin, Andy Samuel secured a £12,000 funding package from Transmit Startups - delivered as part of the British Business Bank's Start Up Loans programme last year - which has allowed bottles, labels, and packaging to be acquired in bulk, enabling economies of scale.
---
---
This year could see the business expanding into the USA, with customers in port cities such as Chicago and Miami expected to resonate with the brand's shipyard heritage. Closer to home, the premium spirit is already proving popular locally with customers in Glasgow and Inverclyde, and other shipbuilding centres such as Liverpool, London and Belfast.
The idea for Shipyard Gin came about during the height of the pandemic when a quiet period for Mr Samuel's wedding videography business meant he could take the time to turn a lifelong dream into reality. Inspired by his grandfather, who worked in the Clyde shipyards and would make wine in his spare time, Andy developed the recipe and partnered with a distiller in Arbroath to have bottles of the gin ready for sale less than a year later.
Andy Samuel said that the impact of Covid-19 had likely played a part in such a successful launch resulting in turnover of around £30,000, with shifting consumer habits meaning people are thinking more carefully about spending and showing support for smaller independent businesses.
He added: "Never in my wildest dreams did I expect Shipyard Gin to take off in the way that it did, but in a few short few weeks we delivered quantities that you would usually expect from a small-batch gin in six months or more.
"It was always a pipe-dream to create a local brand that celebrates Inverclyde's history as a shipbuilding hub – at one point the yards were responsible for as much as 20% of the world's shipping fleet – and the pandemic gave me the chance to take the leap.
"When I realised how much the margins would be impacted by the ability to place bulk orders for packaging, I applied for support through my high street bank but was unsuccessful. I don't know what I would have done without Transmit and the Start Up Loans programme. The funding has accelerated my success over such a short space of time and is allowing me to now think about what comes next, beyond Scotland.
"Scotland has strong connections with the USA, and combined with their own shipbuilding heritage, I'm hopeful that Shipyard Gin will soon be stocked in a number of hotels and bars across the pond. International contracts will further the business case for expansion in the UK too, and could even lead to the creation of a local distillery if demand exceeds the current capability."
Shipyard Gin is one of more than 60 businesses in Inverclyde to have received a Start Up Loan since the scheme launched in 2012. Across Scotland, more than 5,800 small businesses and start-ups have benefited from funding totalling almost £50 million.
Mark Sterritt, UK network director, Scotland at the British Business Bank, added: "The Start Up Loans initiative was designed to enable entrepreneurs like Andy to access funding through alternative avenues, helping local businesses to thrive. Shipyard Gin is a great example of how someone's lifelong ambition can become a reality with the right support, including a range of resources provided through our network of delivery partners to help with business plans, accounting, marketing and more."
Peter Corr, Andy's business adviser at Transmit Startups, commented: "It's always a pleasure to work with people who recognise exactly what makes their business special and Andy is a great example of that. His business plan really impressed me because of the strong brand he had created, based on the traditions and work ethic of the local shipyards. This will help him to stand out in the market and will no doubt win him fans around the world. It's a good feeling to have played a small part in that journey."