Kelvin Smith prepares to hit milestone 40th birthday with £15m turnover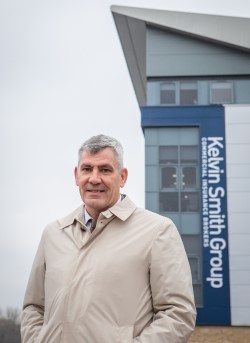 Glasgow-based insurance firm Kelvin Smith is getting ready to celebrate 40 years in the highly competitive industry with a record turnover of £15 million.
Kelvin Smith, which was founded in November 1982, has established itself as one of Scotland's leading firms of insurance brokers, weathering industry transformations, recessions, and a global pandemic.
After it was founded by financial advisors Gordon Smith and Andy McGlennan as a financial services business and estate agency, car and home insurance broker, Kelvin Smith, changed tack when direct-sales company Direct Line shook up the industry in the mid-1980s by introducing a single telephone service, rendering the average high street broker obsolete.
---
---
It was switching its focus to commercial insurance that cemented the company's success – working in sectors including hospitality, construction and property – as the firm developed the personal service that sees it continuing to expand four decades on.
The firm's managing director, Stephen Travers, who was Kelvin Smith's first employee, attributes the firm's staying power to the strong client relationships and trust in their offerings. He said: "Everyone said we were finished when Direct Line, then Churchill, Esure and Admiral changed the home and car insurance market.
"Although we still broker home and car insurance for high-net-worth individuals, we found real success in business insurance, as businesses really see the value in the fact we make sure that nothing is overlooked. People want to deal with people."
After joining in 1983, Mr Travers became a partner in 1990, taking over the business in 1995 when he was just 32. Since then, Kelvin Smith has seen its annual income increase 900% from £1.5m to £15m, growing in the last decade by £1m per year.
Mr Travers, who started in the insurance industry as a Youth Opportunities Programme trainee on £23.50 a week, has never steered from the values introduced to him by founders Mr Smith and Mr McGlennan.
He said: "They instilled a real honesty in me from the beginning – they made it absolutely clear the importance of giving clients the right advice and making sure clients trust you.
"Their philosophy is still key to the business – first and foremost your clients need to trust you on advice and on price.
"We've grown because our clients trust us, and they tell other people about us. That's why we have continually expanded the business and will continue to do so."
The firm maintains one of the highest renewal retention rates of clients of any insurance broker in the UK at 96%. This is achieved, says Mr Travers, through unshakeable standards that include competitive premiums, first class service, unrestricted access to insurance markets and always placing their clients at the heart of every business decision.
He added: "As the business grew, clients kept referring us to other people. So we've enjoyed total organic growth.
"The industry is so much more competitive than when I got into it. There's an oversupply of brokers in Glasgow but we've survived and prospered because we get the information and advice right.
"Policyholders having the right arrangement and right depth of disclosures in place is vital. We are very diligent to do everything we can to ensure all disclosures are fully factual. When it comes to big claims, insurers are forensic – so we need to be forensic from day one to protect our clients from being caught out in the event of a claim."
Now with a staff of 40, Mr Travers nurtures his team which includes a separate team of FCA Authorised IFA's providing premium health and life insurance, pensions and a positive working environment.
He continued: "You need talented people, so we've always invested in keeping our best talent. When I took over, I quickly started to grow the team. It's definitely harder to recruit now so we've worked hard to make it the most attractive place to work possible.
"We tried to find people with a great attitude, and a great work ethic. We recognised people quickly who are going to be good for us and showed them there was a future progression, opportunities to learn and opportunities to earn a commensurate income based on their values, skills and competencies."
Mr Travers also described the impact of the unanticipated global pandemic which rocked the insurance industry.
He added: "We quickly found which policies would indemnify clients for covid and constantly communicated with clients whether they were able to claim or not.
"If everyone had been covered, it would have destroyed the industry. A very small percentage were able to claim, and that's because of unintentional wording in a contract. There were a tiny minority of organisations, including Wimbledon Tennis, who had deliberate cover for a pandemic."
Looking to the future, Mr Travers has identified haulage, construction, and hospitality as key areas of growth. He is proud to be fighting for hospitality businesses who were almost decimated due to Covid-19. He said: "We will exhaust every avenue to meet the challenges ahead and are now looking to acquire smaller brokerages across Scotland, as we expect the market to become increasingly difficult for smaller firms."