Leave independence decision up to Scots, says RBS boss as he predicts Brexit "pain and anguish"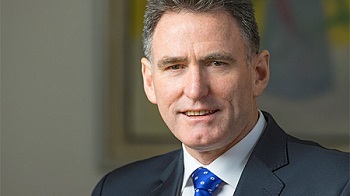 Outgoing Royal Bank of Scotland chief executive Ross McEwan has this week taken the occasion of a Glasgow speaking engagement to warn that the UK faces a period of "pain and anguish" as a result of Brexit and it should be left up to the Scottish people if they want to take the escape route of independence.
Mr McEwan made the comments while addressing journalists at The Clydeside Distillery in Glasgow in a week that has also seen shadow chancellor John McDonnell say that a future Labour government would not block a second Scottish independence referendum.
In an interview at the Edinburgh Fringe Festival, and in contradiction of Scottish Labour leader Richard Leonard, Mr McDonnell said any decision about holding a vote would be up to the Scottish Parliament.
---
---
Earlier this year, Mr Leonard said the party would refuse to grant Holyrood the power to hold another vote.
Mr McDonnell was also speaking to the LBC broadcaster when he was asked about the possibility of a second independence vote.
"It will be for the Scottish Parliament and the Scottish people to decide that," he told the station.
"They will take a view about whether they want another referendum. Nicola Sturgeon said by late next year or the beginning of 2021."
He added: "We would not block something like that. We would let the Scottish people decide. That's democracy.
"There are other views within the party but that's our view."
Mr McDonnell's comments follow the publication of an opinion poll suggesting the majority of Scots could back independence.
A survey by Lord Ashcroft Polls, published this week by Holyrood Magazine, revealed support for independence in Scotland has risen to 52 per cent, when those who do not know how they would vote or plan not to vote are excluded.
Asked about his thoughts on the Scottish independence issue, RBS chief McEwan took a similar line to the senior Labour politician.
He said: "Leave it to the Scottish people. It is your call. You have got to make the calls on these things. We have just got to prepare as well as [we can] for that. There is nothing new in that for what we have to do."
However, Mr McEwan said he believed that the Scottish Government would want the bank to "take the plaque and move it to England" in the event of independence, as the still more than 60 per cent state-owned giant's around £730 billion balance sheet would be "just too big for Scotland…they just couldn't support it".
Asked what such a move would mean in reality, he replied: "Not much at all. We would have to get approval from the Scottish Government and Westminster to say our registered office is now in the UK."
He said: "As long as things stay competitive here – i.e. we could get talented people and they want to work here – not much changes. We have been moving staff from London to other locations over the last five years."
On the impact of Brexit, he added: "This economy, it will slow down. It will be all right in the long term. I think, in the medium term, we are in for a little bit of pain and anguish. How deep or painful that is, time will tell. It will depend if it is deal or no-deal."