Mabel's Bakery transforms into growing business with support from Business Gateway
A Perthshire-based dog baker Mabel's Bakery has seen a lockdown hobby transform into a growing business with a UK-wide client base after receiving support and advice from Business Gateway.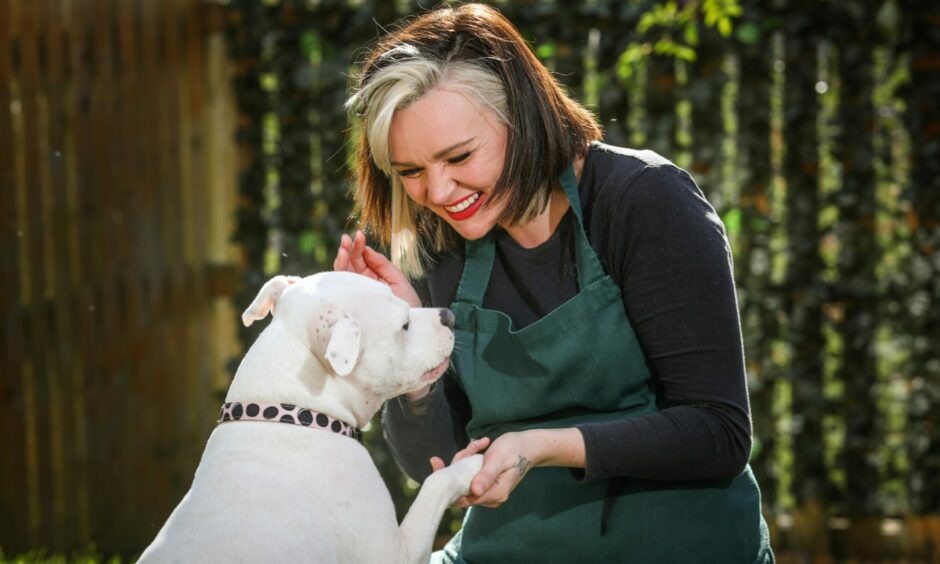 Officially launched in late 2020, Mabel's Bakery was borne out of business owner Jeri Kelly's love for her pure-white Staffordshire bull terrier, Mabel. After being furloughed from her job as a legal secretary in early 2020, Jeri filled her days by learning to bake delicious treats for her three-year-old pampered pooch.
With the time to experiment with different flavours and recipes, Jeri developed a range of healthy and nutritious treats made from human-grade ingredients, naturally sweetened and coloured with fruit purées and powders. Spotting a gap in the local market, and with encouragement from her friends and family, Jeri began to share her dog treats on social media.
---
---
After setting up an Instagram account and Facebook page, Jeri quickly received an unexpected amount of interest in her product. She began receiving enquiries and requests for bespoke, made-to-order celebration cakes for dogs' birthdays and 'gotcha' days, to commemorate the special day owners first took their pooches home. Armed with a growing demand for her products but no business knowledge or experience, Jeri turned to Business Gateway for help and advice on how to take her passion project from concept to cash.
Through Business Gateway's start-up services, Jeri accessed regular 1:1 support from a dedicated business adviser, as well as specific advice on marketing, funding, and company regulations. Jeri was also able to benefit from Business Gateway's Go Green To Grow Your Business webinar, a virtual workshop dedicated to offering key tips on how to adopt more sustainable practices into your businesses.
Jeri Kelly also received advice on costings and pet product manufacturing and labelling, which helped her price her products in line with other offerings on the market and introduce professional logos and labelling.
With a new found confidence in her ability to run a business, Jeri now regularly trades at markets and pop-up events across the country, selling the full Mabel's Bakery product range, which includes doggy donuts and 'pupcakes'. Jeri regularly shares her latest Mabel's Bakery creations with her followers, which now stand at over 2,200 people. Many of her customers travel from all over Scotland to purchase some of her doggy delights, and, through her social media, she has even received orders for her birthday cakes from as far afield as England and Wales.
Jeri Kelly, owner, Mabel's Bakery, said: "I am so glad I got in touch with Business Gateway. They have truly transformed my lockdown hobby into a proper business. I was overwhelmed with having to manage all the aspects of running and growing Mabel's Bakery, something I really hadn't expected when I first set it up in 2020.
"My adviser knew I had no previous business experience and supported me every step of the way. She couldn't have been more helpful. I am now much more confident in my business ability and would recommend Business Gateway to everyone."
Looking ahead, Jeri Kelly plans to develop a website, with the ultimate goal of owning a commercial kitchen and becoming a full-time dog baker.
Emma Kilani, Business Gateway adviser, commented: "It is fantastic to see that Mabel's Bakery has grown so quickly. Jeri has worked extremely hard to bring her unique products to as many potential markets as possible.
"We will continue to support Jeri through Business Gateway's growth services as she looks to develop her business further. I am sure lots of dogs would love to try her delicious treats."