Micro-investment firm CAM Ventures launches cocktails brand
CAM Ventures, a Scottish micro-investment firm established in the summer of 2021 has launched Angels Dare, a ready-to-drink cocktails brand.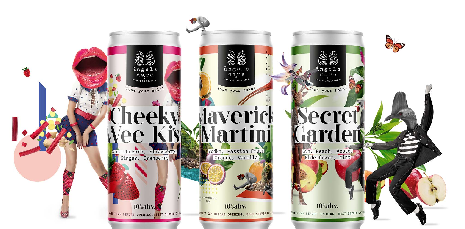 Angels Dare, which began trading as a cocktail delivery service during the 2020 lockdown was the first project to receive funding from CAM Ventures in the summer of 2021 and has developed three signature drinks ahead of the launch this week.
Offering customers the choice of a signature 'Cheeky Wee Kiss' which mixes dry gin with rhubarb and ginger, the 'Maverick Martini which blends vodka with passionfruit, vanilla, orange and lime, or a 'Secret Garden' which fuses dry gin with peach, elderflower and apple, Angels Dare aims to provide a high end cocktail experience which consumers can enjoy in the comforts of their own homes.
---
---
Speaking of the launch, CAM Ventures' managing director Will Macpherson, said: "It's been great bringing Angels Dare to market. I connected with Angels Dare founder Michael Crozier online last year and working together to develop the brand and bring it to consumers has been a great experience. Creating a premium cocktail brand which can be enjoyed at home has been a major achievement for CAM Ventures.
The brainchild of founder Michael Crozier, the cocktails have been created and canned in Scotland and are free of sulphites, preservatives, artificial flavours, and sweeteners. The cocktails are also vegetarian and vegan friendly.
Available to purchase directly from the brand's website, Angels Dare are celebrating their launch with a number of treasure hunts taking place across Edinburgh, Glasgow and Manchester, where winners will be gifted with a case of cocktails.