Newtonmore timber firm wins £180k green jobs fund award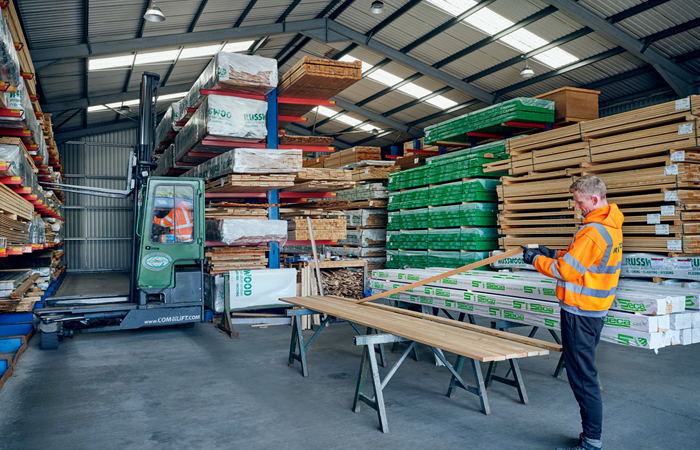 Russwood, a timber manufacturing and processing firm, has secured a green jobs investment worth £180,000 from Highlands and Islands Enterprise (HIE).
The Newtonmore business is undergoing a £1.5 million project to expand and become a more modern, technological advanced and efficient company. It is expected that seven new jobs will be created and the company's turnover will increase by around £5.3m.
The business has supplied high-quality sustainable timber flooring, cladding and decking products to both the domestic and trade sectors across the UK for more than 30 years.
Around 60 people are employed across its office and production facilities, which includes the sawmill, planning mill and coating facility.
---
---
The project will be completed in two phases. The first phase is being supported by HIE through the Green Jobs Capital Fund as the jobs created produce goods that conserve natural resources through the use of FSC timber and will involve making production processes more environmentally friendly. The firm has a strong focus on reducing its carbon footprint by offering sustainable, high-performance timber products.
The storage and finishing building will be expanded by 80 percent to allow more space for business growth. The potential to increase manufacturing and productivity will contribute to reduced transport and a lower carbon footprint.
The new space will also support the enhanced technology and software required to improve staff efficiencies and will support the company's plans to recycle waste into packaging for e-commerce orders.
Sustainability is a strong focus in everything the company does. All its timber is FSC certified, meaning it is sustainably sourced from well-managed forests. The business only uses materials from renewable sources and recycled or recyclable materials where possible, avoiding wastage of materials, water and energy throughout the business.
Timber is a fully renewable resource with important natural carbon capture properties and low embodied energy, making it one of the most sustainable building materials available.
The Green Jobs Capital Fund supports businesses and social enterprises to create and retain jobs that produce goods or services that benefit the environment or conserve natural resources, as well as jobs that drive more environmentally friendly processes in organisations across the region.
Juan Paulo Rodriguez, head of regional development for HIE's Inner Moray Firth team, said: "Russwood is an important local employer in Newtonmore and contributes to the region's economy. The company is embarking on the next stage of growth by using innovation, new technology and reducing carbon emissions as we move towards a net zero economy.
"The project is also about creating more good quality well-paid manufacturing jobs in the region. We are really pleased to be able to support Russwood and look forward to continuing to work with the company as they move towards the next stage of development."
Managing director of Russwood Ltd, John Russell, said: "Our company exists to create a more beautiful, sustainable future in the built environment. Innovation and environment are two of our five company values and HIE's support assists in fast tracking improvements in these areas."
Russwood Ltd has received previous support from HIE over the past few years. In 2019, the company took part in the pilot DataPath programme to help with strategic planning and data-informed decision-making. Mr Russell also attended HIE's 'accelerated new product or process development' programme, which provided a platform for him to engage and share experiences with leading innovators in Highland business. He believes both programmes were hugely beneficial.
Richard Lochhead, minister for just transition, employment and fair work, said: "Russwood's plans to create new jobs in Newtonmore through its sustainable expansion is great news.
"This is another example of the Scottish Government's commitment to creating good quality, green jobs and ensuring a fair and just transition to a low carbon economy.
"The Green Jobs Fund provides investment to businesses in Scotland to create and maintain jobs that support low carbon products and services and contribute to meeting the Scottish Government's net zero ambitions."