Proposals for Edinburgh's transport transformation unveiled
A "radical" infrastructure programme to improve transport in and around Edinburgh city centre is to be released for consultation.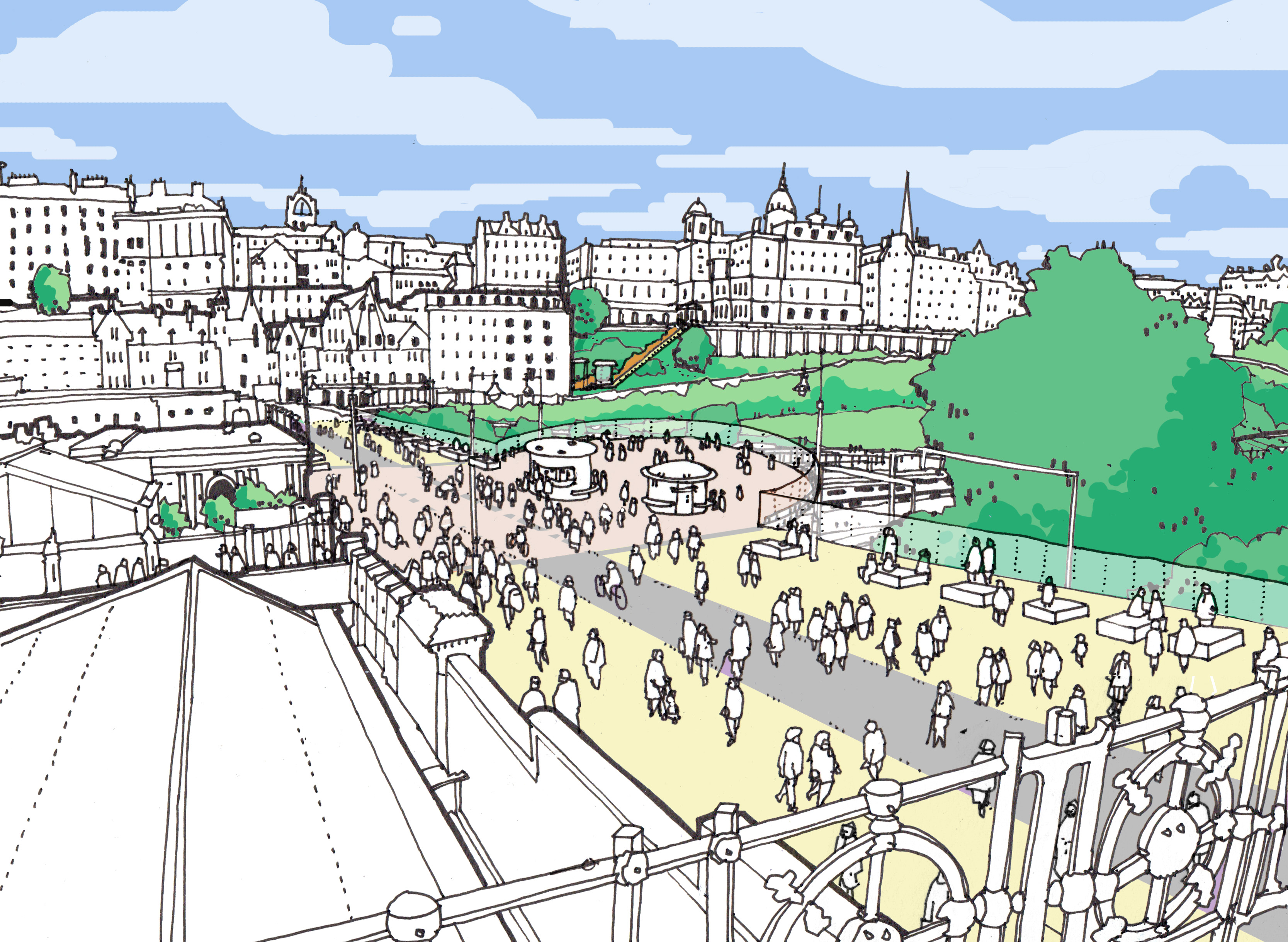 The 10-year transformation project includes a longer term ambition to extend the tram route over North Bridge to the BioQuarter and the Edinburgh Royal Infirmary.
A city centre tram loop cold also be constructed between Haymarket and the university quarter.
The proposed strategy takes a holistic approach, separating the city centre into layers, each representing the different ways people use and interact with the city centre - including walking, cycling, public transport and private car travel. Measures for each layer relate to six 'catalyst' areas identified as critical to achieving city centre transformation, amongst which are Lothian Road and the Old Town.
Proposals detail the key infrastructure, policy and management interventions to transform the city centre over the next ten years, in a phased approach, and include:
A pedestrian priority zone and a network of car-free streets creating a walkable core at the heart of the World Heritage Site.
Improvements to streets and public spaces which complement the city's unique heritage.
A connected network across the city centre of segregated and safe cycle routes including a new walking and cycling bridge connecting the Old Town and the New Town.
A free city centre hopper bus to support people moving around the city without a car.
Lifts or other forms of vertical connections at key points to help people, especially those with mobility restrictions, explore the different street levels.
Reducing the presence of cars to free up space for other users, including a significant reduction of on-street parking with priority given to residents and blue badge parking.
Proposals to enhance walking and cycling facilities between the Meadows and George Street will also be considered as part of the Edinburgh City Centre Transformation report. These include the closure of Bank Street between Market Street and the High Street to general motorised traffic and pedestrian priority on Forrest Road and Candlemaker Row. These will be subject to a six-week consultation beginning on 27 May.
Transport and environment convener, Councillor Lesley Macinnes, said: "This is an exciting and ambitious strategy, one which will deliver transformative benefits across the city and for a whole range of people travelling to and within Edinburgh. We want everyone to share in Edinburgh's success and reimagining our city centre and its purpose will help make this happen.
"Here we have a blueprint to move the city forward. The proposals are designed to prompt debate - they aren't finalised designs or ideas. They are examples of what we could do to deliver the city centre that residents are telling us they want.
"By creating public spaces that are more welcoming and enjoyable, making walking and cycling in the city centre easier and safer and improving access to public transport networks we want to equip the city for the future. Key to achieving this is to create a consistent and coordinated approach to city centre planning and management. This means continuing to link the Transformation Strategy with policies and projects including Low Emission Zone, City Mobility Plan, City Plan 2030."
A six-week consultation on the draft Edinburgh City Centre Transformation strategy will take place between 20 May and 28 June, during which time the project team will meet with local groups as well as holding public exhibitions.
An online questionnaire will be made available at www.edinburghcitycentre.info.