PwC: Scotland set for 2021 economic growth after second half comeback
Scotland's economy could grow by as much as 4.6% this year according to PwC's projections, as the country begins to recover from the slump created by the COVID-19 pandemic.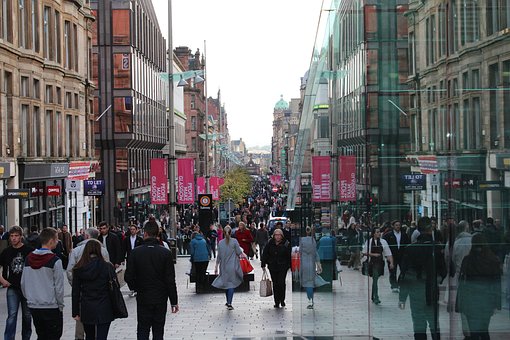 After an estimated drop of 10.6% GDP in 2020, PwC's latest UK Economic Outlook shows that Scotland's economy is expected to grow between 3.6% and 4.6% in GVA (Gross Value Added) terms in 2021, depending on the speed of the recovery.
The most recent official figures show that Scottish economic output is 7.2% below the level in February 2020 - before the direct impact of the pandemic was felt. The economy is estimated to have fallen by 0.3% in December.
A return to lockdown restrictions – including a closure of retail and hospitality venues – means Scotland will likely see that compounded, with the UK economy expected to see negative growth in the first quarter of between -2.0% and -2.8%.
PwC forecasts a gradual return to growth in the UK from the second quarter, leading to 3.4% to 4.6% growth for the full year - with Scotland's slow recovery growth of 3.6% slightly ahead of the UK. Growth is expected to be strongest in London and the South East, which are expected to see growth return to around 3.9%-6.2%.
Despite being more densely populated, these regions are more resilient mainly because of the prominence of sectors like technology and professional services, while relying less on manufacturing where working from home is not always possible.
Scotland's strength meanwhile lies in the spread of its sectoral coverage, which is why Edinburgh was the city least economically impacted by the pandemic, according to PwC's recent Good Growth for Cities report.
According to PwC projections, on average in 2021 the UK is expected to recover between 30% and 42% of the loss in output caused by the pandemic. This is equivalent to between approximately £2,100 and £2,900 per household.
However, aggregate levels mask a more diverse regional picture. Under the 'quick recovery' scenario, London and the South East are expected to recover about 62% and 54% of lost output from 2020, respectively, compared to 43% in Scotland.
This could have implications for the Government's 'levelling up' agenda, given parts of the UK where there is higher GVA per household are generally expected to claw back more of the lost output from 2020, while regions with lower GVA per household will be slower to recover.
Stewart Wilson, head of government and public sector for PwC Scotland, commented: "We expect growth to return to the economy after a bumpy first quarter heavily impacted by the continuing lockdown. A slow recovery will see growth in Scotland of 3.6%, and while this is ahead of the pre-pandemic growth rate, it must be remembered that we begin this recovery following a 10% fall in the economy last year, meaning we expect the UK economy to be 3.1% to 4.6% below the pre-crisis mark by the end of this year.
"We predict that growth in Scotland will accelerate in 2022, however economic activity is not expected to recover to pre-pandemic levels before 2023 - and further restrictions could push back the recovery timeline to the middle of 2024."