RBS chief Alison Rose appointed chair of Business in the Community's Scotland advisory board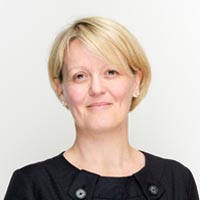 Alison Rose, chief executive of RBS, has been appointed as chair of Business in the Community's Scotland advisory board. Mr Rose has also joined Business in the Community's board of trustees.
Ms Rose has worked at RBS for 27 years. Prior to her current role as chief executive, she was deputy CEO of NatWest Holdings and CEO of the Commercial and Private Banking business.
She was invited by the UK Government to lead a review of the barriers to women starting a business and launched The Rose Review in March 2019. Ms Rose also champions NatWest's Entrepreneur Accelerator programme, an innovative initiative supporting start-up businesses across the UK.
---
---
Ms rose's appointment arrives after it was announced earlier this month, that under Rose's leadership RBS Group would rebrand as Natwest Group. The bank also revealed it would be halving the size of its investment banking business Natwest Markets.
Business in the Community is the oldest and largest business-led membership organisation dedicated to responsible business. The organisation convenes a unique network of purposeful leaders to share insight, expertise and create innovative programmes that deliver impact.
It is Business in the Community's ambition to make the UK the world leader at responsible business and it boasts a vibrant membership of hundreds of businesses, large and small, connected by the conviction their success is inextricably linked to society's prosperity.
Alison Rose said: "The positive impact that businesses in Scotland make to the communities they serve cannot be underestimated. Collectively, through organisations such as Business in the Community, it can be even greater. It is a privilege to take on this role of Chair of Business in the Community's Scotland Advisory Board.
"Stakeholders' expectations of companies are changing, looking for them to deliver not only financial performance but a positive contribution to society; benefitting customers and communities as well as shareholders. I look forward to working with businesses in Scotland on how we best connect purpose and business to ensure we are driving benefits for all our stakeholders."
Amanda Mackenzie, chief executive of Business in the Community, added: "We're delighted that Alison has taken on the leadership of the Scotland Advisory Board. Now more than ever, we need business leaders like Alison with the vision, boldness and bravery to inspire UK plc to step up and act to meet our ten-year deadline to solve our planetary and societal crises. The experience and leadership Alison brings will further unlock the potential for Business in the Community Scotland to put responsible business at the heart of every leading business across the nation."
As part of the role, Ms Rose is looking to recruit new members of Business in the Community Scotland who can help achieve the vision for Scotland. If there are any companies who would like to be more involved in Business in the Community, then please contact membership@bitc.org.uk.