Rearo celebrates 30th anniversary with £500,000 investment in transforming the business
Rearo, an independent family business headquartered in Govan, has celebrated its 30th anniversary with a £500,000 investment.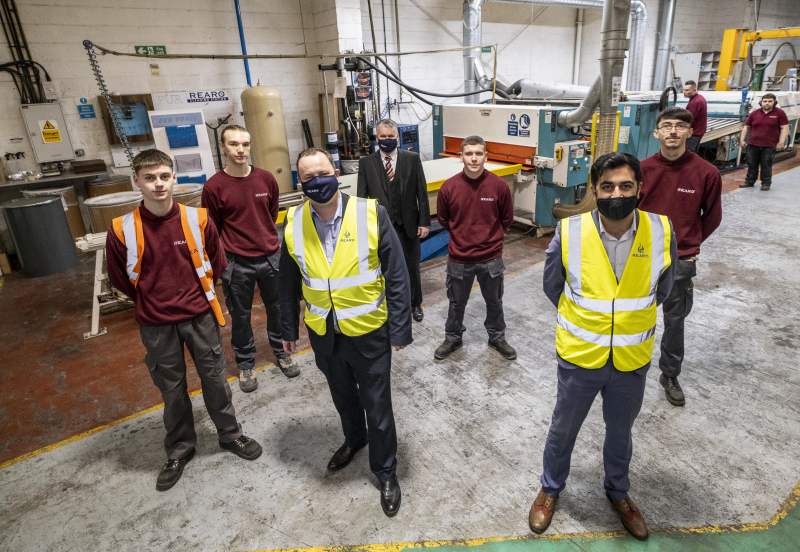 The £500,000 investment will help the company transform production processes and working practices, develop new products, and embed a commitment to customer service across the company.
To mark the occasion, Humza Yousaf, cabinet secretary for health and social care, and Chris Stephens MP, Shadow SNP Spokesperson, fair work and employment visited Rearo.
---
---
While there, the two saw the positive investments which Rearo has made in partnership with Scottish Enterprise and learnt more about the company's successful apprenticeship programme.
Rearo designs and manufactures durable worktops, wall panels, and flooring for commercial use, as well as domestic bathrooms and kitchens.
These business developments have been helped by Scottish Enterprise, who contributed £100,000 grant funding towards a three-year project of factory improvements which is costing Rearo more than £500,000.
These improvements include the creation of a link building to join Rearo's two factories at 29 and 45 Loanbank Quadrant, Govan, as well as the creation of a new marketing suite, a logistics office, and additional staff welfare facilities.
The final part of the project is due to be completed shortly with the commissioning of an environmentally friendly, fast-acting PVA adhesive line to increase throughput, improve manufacturing efficiencies, and play a significant role in the company's green strategy.
The company has also made huge transformations to its Govan HQ by re-configuring the factory layout, introducing a click and collect scheme, and most recently launching a brand-new e-commerce website and renovating their showroom to give customers a better experience post-lockdown. The innovations have allowed Rearo to bring more of its services in-house, creating jobs for a wide range of skills such as sales, design and delivery.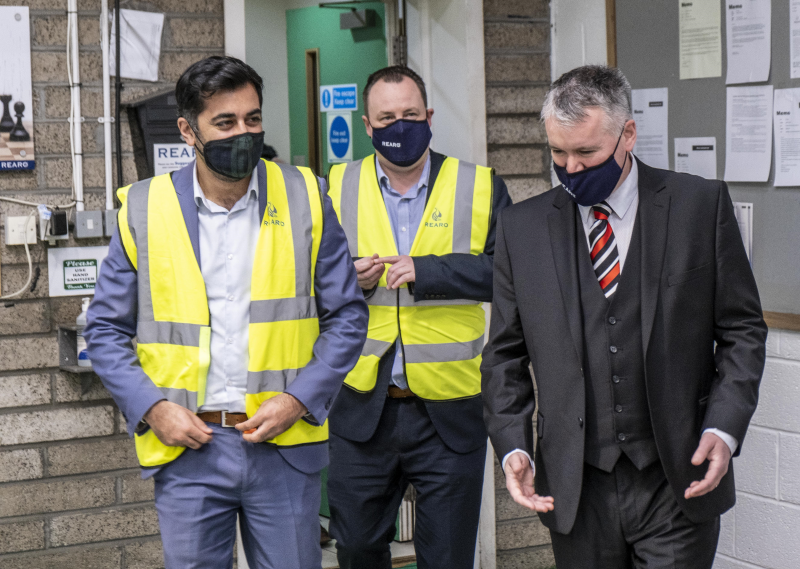 Jim Watson, director of business services and advice at Scottish Enterprise, said: "This milestone celebration coincides with the culmination of a major transformation for the company.
"Having supported Rearo on this project, as well as assisting its team with various training and development programmes over the years, it's great to see the company continue to grow and thrive in Govan. Given the recent COP26 summit right here in Glasgow, it's also particularly pleasing to see the company making manufacturing efficiencies that will contribute to its green ambitions."
More work with Scottish Enterprise and Skills Development Scotland has seen Rearo develop its apprenticeship scheme which has led to the hiring of 20 apprentices over the past five years and winning the Scottish Apprenticeship Awards in 2018 for equality and diversity. Previous apprentices have gone on to a wide range of careers within Rearo, including management positions.
Chris Stephens MP, added: "I was delighted to be invited to Rearo to celebrate this remarkable 30-year milestone for this thriving local family manufacturing business within Glasgow South West.
"It was exciting to see the new improvements to the factory and hear about the organisation's growth strategy and the green ambitions for the future."
Humza Yousaf MSP, commented: "I am delighted to have visited Rearo Laminates as they celebrate 30 years in their Govan HQ. Not only do they provide award winning service and quality of product, but they are providing vital apprenticeships which have benefitted many in the constituency.
"It was great to finally see in person the improvements Rearo have made to their factory in Govan and meet the hardworking team to celebrate their success. Their services and products have not been undermined by the challenges of the pandemic, but rather saw them supply the laminate surfaces for the construction of the Louisa Jordan hospital in 2020 – a massive congratulations needs to be given to them as recognition of their achievement. Here's to at least another 30 years of Rearo Laminates! I look forward to seeing what they do next."
Graham Mercer, Rearo managing director, said: "We are very grateful to Humza Yousaf MSP and Chris Stephens MP for taking the time to come to Rearo and see the developments in our Govan headquarters and to learn more about our apprenticeship programme on this significant anniversary.
"Both of these initiatives demonstrate the ambition and the superb progress of Rearo. As we plan the next phase of our growth, the transformation of the factory, backed by Scottish Enterprise, will clearly play a central role in our strategy, while the apprenticeship programme highlights our long-term commitment to the local community."