Royal Bank of Scotland takes space at capital's data science hub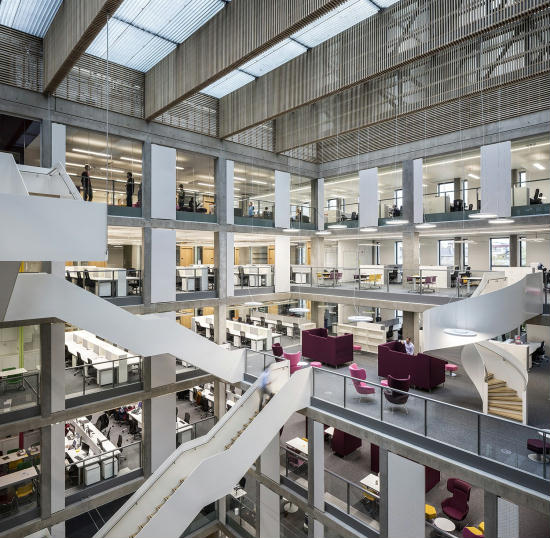 Royal Bank of Scotland has opened a data innovation research unit at the University of Edinburgh, where it will join other industries, academics, and public sector partners in the heart of Edinburgh's data science community.
RBS has leased space at the Bayes Centre, the university's new data innovation hub for solving real-world problems through scientific enquiry, inspiring design and industrial collaboration.
The move will see data specialists from the bank working alongside analytics experts and researchers from the University's schools of business, informatics and mathematics.
The Bayes Centre opened in October with the aim of fostering closer links between researchers and a wide range of industry sectors, including financial services.
Dr Michael Rovatsos, director of the Bayes Centre, said: "Our partnership with Royal Bank of Scotland presents a unique opportunity to help create better services for Royal Bank of Scotland customers and understand how data can benefit the financial sector in the UK and globally. Their decision to join us in the Centre underlines the importance of collaborating with industry – one of our priorities."
Royal Bank of Scotland hopes the venture will create new opportunities for data science to improve the lives of its customers and that embedding its staff in the data science community will stimulate innovation and ideas to improve products and services.
Frank Meere, director of data at Royal Bank of Scotland, said: "Our people are part of the Edinburgh data science and innovation community. That's why it is important to us that we join forces with otherworld-leading data science and artificial intelligence partners at The Bayes Centre where we will work together ondata-driven innovations that solve real-world problems.
"This week Royal Bank of Scotland and Edinburgh University have started working together on. a number of opportunities to apply machine learning, artificial intelligence solutions to improve financial services. We're very excited about this crucial next step in our collaboration journey with Edinburgh University and The Bayes Centre."
Royal Bank of Scotland has previously worked with the Edinburgh Parallel Computing Centre, the University's super-computing facility, on a range of data-driven financial services projects. The latest announcement coincides with the bankholding a 'spike' at the Bayes Centre, where a dedicated team wasgiven time and resources to focus on a specific business challenge.
The Bayes Centre is the first of five data-driven innovation hubs to open as part of the University of Edinburgh's involvement in the £1.3bn Edinburgh and South East Scotland City Region Deal.
As part of the UK's second largest financial centre, the banks, insurance companies, and pension providers within the City Region are ideally placed to benefit from investment in data-driven innovation and respond to the challenges and opportunities of the data revolution.