SCC celebrates return of Annual Scottish Business Address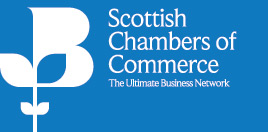 The Scottish Chambers of Commerce (SCC) welcomed over 400 leading figures from Scottish industry, business and politics to its Annual Scottish Business Address last night at the Hilton Hotel, Glasgow.
The event will gather representatives from across the Scottish business community and Chambers of Commerce Network for the first time since the start of the COVID-19 pandemic. The event will also be attended by official representatives from key international markets, as well as senior politicians from Holyrood and Westminster.
The sold-out event, will be hosted by Scotland's foremost television and radio presenter, journalist Kaye Adams.
Attendees will hear from a line-up of renowned business leaders from across the UK who will address the Scottish business community on the theme of 'Scotland: Back in Business' looking ahead to 2022 and Scotland's route back towards economic growth.
---
---
Speakers throughout the evening are:
Tim Allan – SCC President
Stephen Leckie - Chairman and CEO of Crieff Hydro Family of Hotels
Dr Liz Cameron OBE- Director and CEO of SCC
Derek Provan - CEO of AGS Airports Ltd
Jeanette Forbes OBE – CEO of PCL Group
David Sanderson - Director of AdSmart Local & Development at Sky
Melinda Matthews-Clarkson - CEO at CodeClan
Lyndsey Teaz - CGI's Business Unit Leader in Scotland
Industry pioneers Jeannette Forbes, founder of PCL Group, (a total IT and cabling company with a global clientele in five sectors including offshore, marine, commercial, industrial and renewables) and Derek Provan, CEO of AGS AGS Airports (the second-largest airport group in the UK, who carried over 15 million passengers in 2018 and which directly supports around 10,000 jobs), will outline industry ambitions for 2022 and beyond, setting out their aspirations for the future of the Scottish economy .
Speaking ahead of his Annual Business Address, president of the Scottish Chambers of Commerce, Tim Allen said: "After an incredibly challenging period for Scotland's businesses, this major business event comes at an incredibly important point in our collective recovery from the impact of the COVID-19 pandemic.
"Individuals and businesses rose to the challenge of the pandemic and demonstrated their resilience, ingenuity and determination. The result is that Scotland's economy is now well underway to recovery, projected to return to pre-pandemic levels of growth as soon as early next year, further boosting consumer and business confidence along the way.
"Although the rapid economic recovery is looking positive, Scotland's businesses remain acutely aware of the considerable challenges ahead of them. Repairing international trade links and creating new ones, rising to the challenge of climate change and Scotland's Net Zero ambitions, and maintaining a stable and sustainable recovery towards growth in the face of ongoing uncertainty.
"The Scottish Chambers of Commerce Annual Business Address give leaders from the private sector, public sector and civil society a unique opportunity to connect, exchange ideas and foster collaborations that will ultimately benefit Scotland's economy and create more opportunities for us all, whilst also providing a chance to reflect on the difficult years behind us and to beginning to look forward again with increasing positivity."
David Sanderson, director of AdSmart Local & Development at Sky, added: "At a pivotal time for these businesses, this event is a great opportunity to come together as a group to celebrate Scottish business and look positively ahead at how they can secure a stable future.
"Through innovation and market leading technology, AdSmart from Sky is placed to help nurture businesses of all shapes and sizes, to help them grow and bounce back even stronger from the last few years. We know that although there are economic slowdowns, people are still spending money and we want to help brands connect to their audiences.
"We're incredibly excited to be able to support the Scottish Chambers of Commerce at such an important evening and network of leading figures."
Lyndsey Teaz, CGI's Business Unit Leader in Scotland, commented: "CGI is delighted to attend and support this important event in Scotland's business calendar. As an organisation we continue to be hugely committed to the economies in which our members live and work and we believe that collaboration and communication, along with technological innovation, will be key to continued success as our economy moves through and out of the pandemic"
Melinda Matthews-Clarkson, CEO at CodeClan, said: "The pandemic has given us an opportunity to have a better understanding of our strengths and some of our challenges. Those challenges have now been defined and 2022 will be the year of positive momentum for Scotland's recovery.
"CodeClan is proud to be a sponsor of this event and we are looking forward to engaging with the top leaders in business, public sector and the third sector community."