Scotland to take centre stage at Expo 2020
Some of Scotland's finest produce will be globally showcased at a World Expo 2020 reception in Dubai this evening, organised by Scottish Development International (SDI).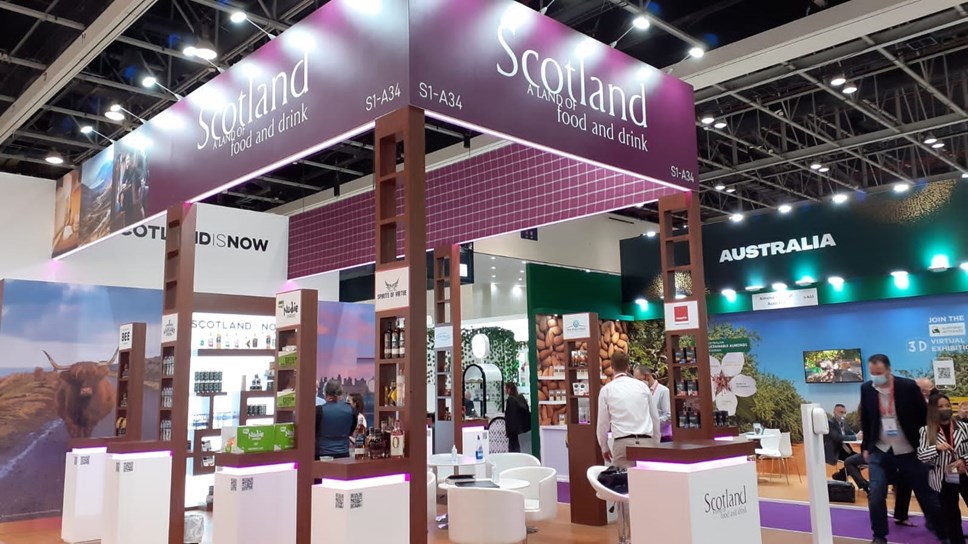 Scotland's Food and Drink VIP Reception and Showcase will highlight the country's world-renowned food and drink sector to an international audience and provide export opportunities for Scottish firms to the UAE and the wider Middle East market.
More than a dozen Scottish firms will display their produce at the showcase, including Scottish salmon, non-alcoholic spirits, plant-based products and oysters. The event will coincide with Gulfood 2022, described as the largest annual food and drink sourcing event in the world, which will be taking place in Dubai throughout this week.
Scotland's largest export industry to the UAE is Food and Drink, while it remains one of the country's top international export sectors.
Mairi Gougeon, cabinet secretary for rural affairs and islands, who will deliver a virtual address at the reception, said: "The Scotland's Food and Drink Showcase event is a fantastic opportunity to highlight why our food and drink producers have rightly earned a national and international reputation for quality and provenance at a time when consumers are increasingly interested in how their food is produced.
"Scotland is home to companies with the ambition, capability and innovation to influence and respond to global food trends, which unsurprisingly has resulted in our iconic food and drink industry becoming one of Scotland's fastest growing export sectors.
"UAE and the wider Middle East is a key partner for Scotland and for the Scottish Food & Drink sector which is why we have a dedicated food & drink specialist for the Middle East, based in Dubai.
"Over £300 million worth of Scottish Food & Drink is exported to the Middle East & North Africa region every year and I have no doubt that this figure will grow over the coming years as people continue to discover and appreciate Scotland's outstanding natural larder."
Amongst those exhibiting at the showcase, which will be hosted by Nicholas Maclean, the Scottish Government's Trade Envoy to the United Arab Emirates and a member of the prestigious GlobalScot network, are MOWI Scotland. The company, which grows its salmon in the Western Highlands and Islands, is the biggest exporter of Scottish salmon to the UAE.
Also participating are Spirit of Virtue. Using botanical extracts and clear Deeside water, the company manufactures halal certified non-alcoholic drinks including whisky, gin, vodka and rum.
Spirit of Virtue was one of 19 famous Scottish brands that participated in a unique project between SDI and the retailer Spinneys last month, which enabled their products to be sold and promoted in the supermarket's United Arab Emirates (UAE) stores for two weeks.
Ali S. Ali, Food & Drink Specialist for SDI in the Middle East, said: "Global events such as Expo 2020 and Gulfood have demonstrated the significant opportunities that exist for Scottish exporters in the UAE and the wider Middle East region.
"The Food and Drink Showcase event will provide SDI with another high-profile platform to promote the world-class products from Scotland's larder. Scotland's produce is renowned in the Middle East for its quality and this event will further highlight our food and drink industry, potentially increasing international sales for the companies participating."
SDI has been supported by national trade body, Seafood Scotland, in organising the showcase event. Natalie Bell, trade manager from the organisation said: "This event is putting Scottish food and drink firmly on the map in Dubai. Seafood is already popular across the UAE, so it's good to see our Scottish seafood front and centre, with an amazing array of fish and shellfish on offer."
The food and drink industry is worth around £15bn each year to Scotland's economy, with more than 17,000 businesses employing approximately 120,000 people.