Scottish companies using space data to help tackle climate change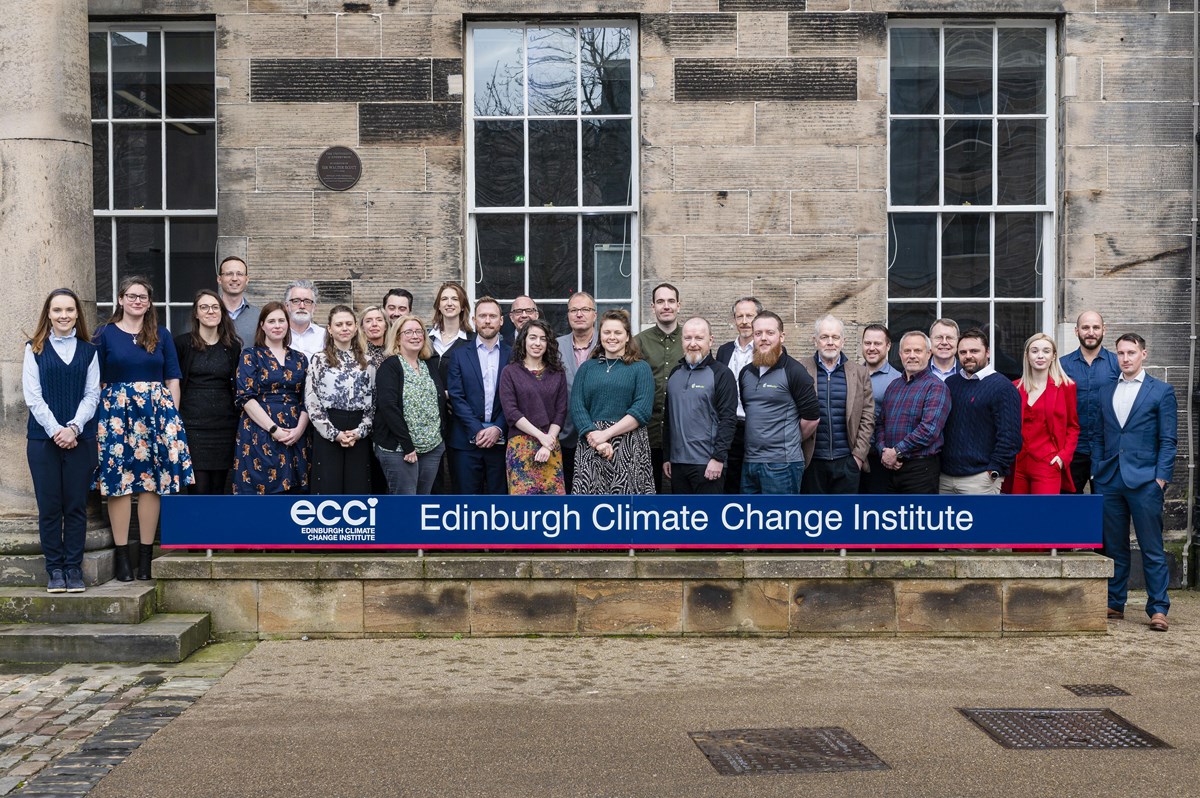 The 11 companies selected to take part in the Scotland Can Do 'Applying Space Data to the Net Zero Economy' research and development (R&D) challenge came together yesterday to share their innovative ideas after recently being selected from a competitive field of applicants.
The challenge, which is run by Scottish Enterprise in partnership with the Scottish Government and The Data Lab, was held at the Edinburgh Climate Change Institute (ECCI), also included representatives from Space Scotland, AstroAgency, the Universities of Edinburgh and Strathclyde, ScotlandIS, the Science and Technology Facilities Council (part of UKRI), Satellite Applications Catapult (SAC), The Data Lab and Scottish Government plus Scottish Enterprise and Scottish Development International (SDI) specialists.
The R&D challenge called on companies to demonstrate innovative space-based solutions that will help a range of sectors – from agriculture to transport and the built environment – accelerate their transition to net zero.
---
---
Scottish Enterprise was so impressed by the quality of applicants that the number of projects supported was increased from the planned 10 to 12 – spanning 11 companies. Each project will receive a grant of up to £30,000 and business support to help develop and test the technical and economic feasibility of their ideas. The total prize pot of £360,000 is jointly funded by Scottish Enterprise, the Scottish Government and The Data Lab.
Scottish Enterprise chief executive, Adrian Gillespie, said: "Finding innovative solutions to tackle climate change is an area where Scotland has the potential to make a huge impact. It's imperative that we identify and exploit all opportunities that will accelerate our path to becoming a net zero economy.
"Bringing these 11 diverse companies together was a fantastic way to ensure greater collaboration across their projects, with experts from a range of agencies there to offer their advice and make important connections for the future."
Scottish Government business minister Ivan McKee,added: "Scotland's space industry is continuing to grow and is rightly recognised as a key new market opportunity within the Scottish Government's National Strategy for Economic Transformation.
"Space can also play a key role in the global fight against climate change by applying space data to find innovative ways to tackle climate change and support Scotland's transition to net zero. The companies selected to take part in this research and development challenge have demonstrated their ambition to use space technologies to support Scotland's move towards a green economy."
The Data Lab Business development executive, Darran Gardner, commented: "The huge growth in earth observation data from satellites, combined with AI and other technologies, provides new opportunities for industry and Scotland's universities to help accelerate the transition to net zero using space technologies.
"The range of projects is fantastic – from using space data to create crop maps for agricultural supply chains and using satellite and sensor data to monitor peatlands, to monitoring global shipping emissions from space – and we're looking forward to seeing the feasibility projects develop into innovative solutions with global potential."
Among companies selected to take part is Edinburgh-based Trade in Space, which is exploring using satellite data to assess dangerous toxins in crops. Founder Robin Sampson said: "In East Africa, cancer-causing toxins have become endemic in food supply chains because of changes in local climate. Through this project we will work with local stakeholders including the World Bank to map where aflatoxin outbreaks are likely to happen, so that mitigation actions can be taken. We plan to use the techniques developed to create other early warning systems to protect climate-vulnerable agricultural supply chains that we depend on."
Meanwhile, Stirling-based Optiseller is working on a project to help cut emissions from online shopping. CTO Raymond Booth, added: "We're incredibly excited to see how we can use space data to complement e-commerce data. Last-mile delivery – from retailer to consumer – is among the biggest emission sources for online shopping. Taking part in the 'Applying Space Data' program means we can use satellite data, outside of what we would normally be able to, to see what impact this is having and explore opportunities to work with the industry to reduce unnecessary shipping, waste and unsustainable practices."
Edinburgh-based Terrabotics proposes using satellite sensors to measure flaring and venting (the disposal of natural gas via either combustion or direct release into the atmosphere) in the North Sea.
Earth Observation Scientist Sian Williams Page, said: "Flaring and venting contribute to climate change and emit black carbon and other pollutants. These processes are also a waste of a valuable resource. This support from Scottish Enterprise means that we can focus dedicated time to testing the feasibility of monitoring flaring and venting in the North Sea from space, as well as speaking with operators and other stakeholders to better understand their needs."