Scottish EDGE welcomes First Minister to celebrate the country's finest entrepreneurs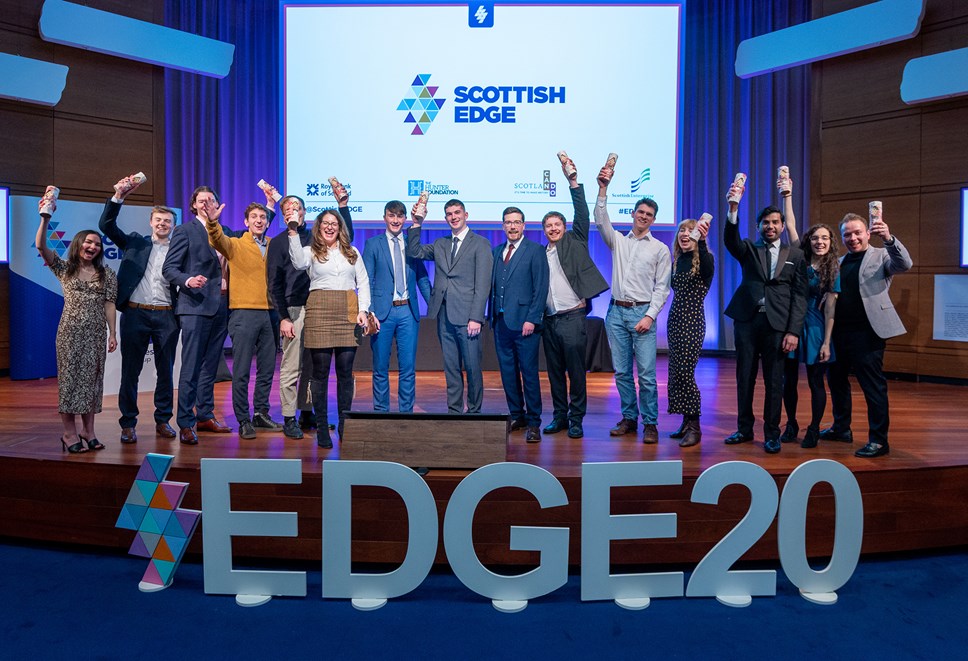 The 20th round of the Scottish EDGE Awards saw an investment of £1.6 million being handed out to businesses with high growth potential.
A total of 42 businesses with high growth potential from across Scotland benefitted from winning at the awards. This round's guest speakers featured Scotland's First Minister Nicola Sturgeon, Minecraft founder Chris Van Der Kuyl, and philanthropists Sir Tom Hunter and Lord Willie Haughey.
Opening the awards was Margaret Gibson, while one of the biggest winners of the evening was Edinburgh-based Rival SC Ltd, a supply chain management platform that sets out to revolutionise supply chains for the next generation of SMEs in the UK, which received a total of £100,000 in the award sponsored by Sir Tom Hunter.
---
---
First Minister Nicola Sturgeon said: "Ten years after it started, Scottish EDGE is now the largest funding competition of its kind anywhere in the UK, and I am immensely proud of everyone who has played a part in its remarkable growth.
"Recovery from the pandemic and the current cost crisis we are facing has caused huge challenges across our business sector - but the innovative ways businesses have adapted and reacted has been remarkable. Scottish EDGE epitomizes the kind of entrepreneurial spirit that we want to encourage, more widely, across our economy.
"The Scottish Government recognises the vital role new businesses and new ideas play in creating jobs and prosperity across Scotland, which is why we are delighted to be supporting Scottish EDGE."
The awards also welcomed back the Net Zero EDGE category, which launched last year with backing from the Royal Bank of Scotland to coincide with COP26. In line with the Scottish Government's commitment to become carbon neutral by 2030, S'wheat was awarded £100,000 for their reusable water bottle made from plants, and Beira Moda was awarded £50,000 for their work in optimizing discarded fabric from the luxury fashion industry and ethically crafting limited edition womenswear embracing the circular economy.
Judith Cruickshank, managing director, Commercial Mid-Market at Royal Bank of Scotland, said: "At the Royal Bank of Scotland we understand that climate change requires urgent action and new ways of thinking. We are proud to invest in high growth, purpose-led businesses through initiatives including the Net Zero award, recognising the positive impact on entrepreneurs which acts as a force multiplier, benefitting the future of Scotland as a nation.
"And amidst these uncertain times, enterprise is the core of our economy. We are committed to championing SMEs to start, scale and thrive – indeed, we believe it is our responsibility to foster a supportive environment which encourages entrepreneurs to take their ideas and turn them into reality. I would like to congratulate each and every one of this year's winners on their success."
In the Young EDGE category, for entrepreneurs under the age of 30, winners included top Harper Macleod £20,000 award recipient The Frangipane Bakery, which is exclusively gluten-free, and clean tech startup Zephyrus Aerolabs who received £15,000 from an additional £75,000 Young EDGE funding pledged by Scottish Enterprise, bringing the total award amount for the category to £155,000, spread across 14 winners.
Scottish Enterprise chief executive Adrian Gillespie, commented: "Congratulations to the winners and well done to everyone who participated in this milestone 20th round. It's great to see the consistently high calibre of entrants – particularly in the Young EDGE category. We're delighted to support Scottish EDGE in their important role nurturing innovative, high growth-potential start-ups."
Wildcard EDGE winners – the category for pre-trading companies, sole-traders and partnerships - received £90,000 in total, including sustainable insulating fabric brand, Ava Innes Ltd, which was awarded £20,000.
Sir Tom Hunter, entrepreneur and philanthropist and guest speaker at the awards, said: "Scottish EDGE plays a pivotal role in the entrepreneurial ecosystem helping build high growth businesses, many of them going on to scale and indeed several now being funded to do so by the Scottish National Investment Bank. We are proud to fund Scottish EDGE alongside many others as it continues to play a critical role in the future of our economy."
As the standout business from a circular perspective, Ailsa Reliability Solutions Ltd received £60,000 as the winner of the Circular Economy Award, supported by Zero Waste Scotland, for its utilisation of cutting edge technology to eliminate unplanned downtime of clients' critical assets.
Another winner on the night was Meander Apparel who received £70,000 plus £75,000 advertising spend through the STV supported STV Growth Award.
In the Social Enterprise category, supported by the Postcode Innovation Trust, KO-NEKT (Childcare) CIC received £60,000 to support the development of skills centres specifically for young people with Additional Support Needs.
This year also marked the inauguration of the Community EDGE Award, which recognised the efforts of an enterprise which may have otherwise missed out. The award, arising from a crowdfunding campaign which raised a total value of £20,000, was awarded to Inverness-based Clarity Walk by public vote.
Evelyn McDonald, CEO of Scottish EDGE, added: "It has been humbling and rewarding to witness the continued creativity, resourcefulness, and resilience of Scottish entrepreneurship, despite the challenging circumstances we find ourselves in.
"At a time when collectivism and civic mindedness are more important than ever, innovation and enterprise remain the beating heart of economic growth in Scotland. Running the awards for 20 consecutive rounds has not only been helpful to Scottish businesses but a privilege for our team who are able to learn something new every day."
Supported by The Hunter Foundation, the Royal Bank of Scotland, the Scottish Government and Scottish Enterprise, the EDGE awards have a key role to play in facilitating the nation's economic growth. This round's Scottish EDGE received 200 applications with finalists pitching to judges on 6th and 7th December in front of a live audience.