Scottish Enterprise awards £13m grant to Diodes Incorporated
Semiconductor manufacturer Diodes Incorporated has received a £13.7 million funding package from Scottish Enterprise towards a £47m project enabling its future growth in Greenock.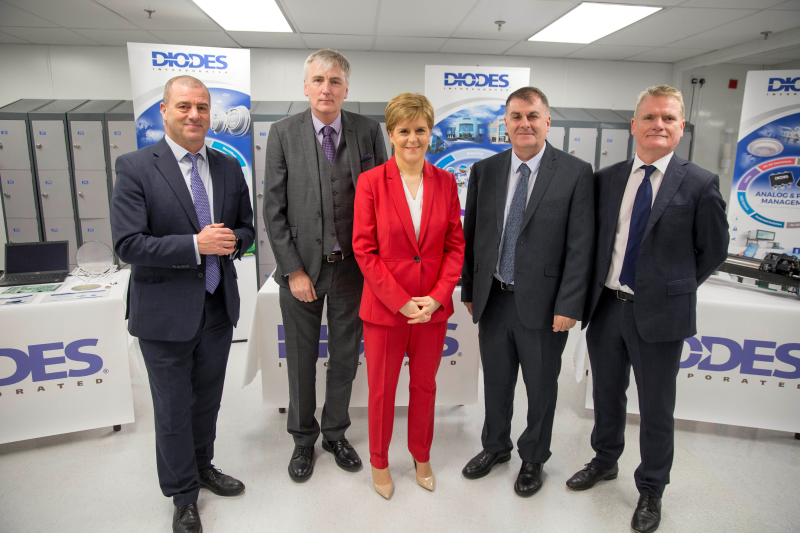 The grant was announced yesterday by First Minister Nicola Sturgeon.
The funding package consists of a £12m research and development (R&D) grant towards a five-year project to develop more technologically-advanced transistors, enhancing the company's already highly-competitive portfolio – and £1.7m towards a £3.4m training programme to enable employees to support this change.
The company has also received £169,500 from Inverclyde Council to assist with the development of the site.
In April last year, USA-headquartered Diodes completed its acquisition of the former Texas Instruments business in the town, safeguarding all 300 jobs on-site, in a deal facilitated by Scottish Development International (SDI), the Scottish Government and Inverclyde Council.
During yesterday's visit to the company's wafer fabrication facility (GFAB), the First Minister saw first-hand the significant progress that has been achieved since, with substantial capital expenditure approved, new tools installed and the first new products shipped for qualification.
The First Minister said: "Almost £14m from Scottish Enterprise will help Diodes advance their research, develop new processes and products and make their systems more efficient and effective.
"The Scottish Enterprise funding reinforces Inverclyde's prominence as an important area for manufacturing and business. I applaud Diodes' faith in its Greenock workforce. Scotland has an innovative and diverse manufacturing sector with companies successfully competing in international markets. Inverclyde has benefited from recent investment in Ferguson's and through the Glasgow City Region Deal, projects including the new cruise ship visitor centre and gallery at Greenock Ocean Terminal."
Steve Dunlop, chief executive of Scottish Enterprise, added: "Following the positive announcement earlier this year that Diodes had acquired the business safeguarding these 300 jobs in Greenock, it's great to see the company now planning for its long-term future in the town.
"By investing in its people and developing leading-edge technologies it will ensure it stays at the forefront of its industry as well as remaining an integral part of the local community. We look forward to working closely with the company as it continues on this growth journey."