Selcoth Farm roots for biodiversity by planting 180,000 trees with support from Bank of Scotland
Moffat-based Selcoth Farm has commenced the second phase of its native woodland project that will see 180,000 trees planted by the end of 2021, with six-figure funding support from Bank of Scotland.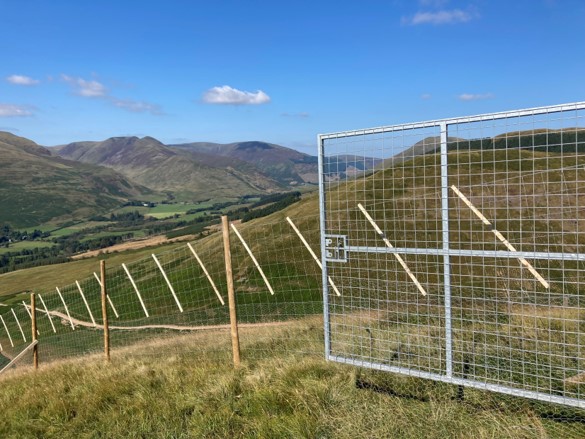 Selcoth Farm is a third-generation family farm that originally specialised in sheep farming before diversifying into rainbow trout farming in 1976.
In 2013, the farm launched a three-stage plan designed to support local biodiversity and offset the carbon emissions it was creating as a business.
---
---
The first phase of the plan saw the introduction of a hydroelectric scheme which generates 1.1m kWh of energy each year, which is more than enough to power the fish farms and residential properties on the farm, with excess power sold to the grid.
The Farm initiated the first phase of its biodiversity project in Spring 2021, with more than 110,000 mixed conifer and hardwood trees planted across 140 acres of land to sustain local wildlife and assist in fighting the climate crisis.
With the first stage complete, the business decided to approach Bank of Scotland for support with phase two, securing the funding package. This funding will enable the business to plant a further 68,000 hardwood trees across 80 acres of land by Christmas 2021.
Oliver Routledge took over Selcoth Farm from his father in 2011. He said: "Developed as a traditional sheep farm four decades ago, we're well aware of the impact that over-grazing and over-farming can have on local wildlife and biodiversity."
"We've always had a keen interest in operating as sustainably as possible and our hydroelectric scheme produces more than enough electricity for our needs. Since, we've been looking for new ways to continue to make a positive impact on the local environment which is why we're so passionate about our woodland biodiversity project."
"Bank of Scotland played a significant role in helping us initiate this second phase of the plan. It's helped us make our ambitions a reality and create a positive impact on the local area that we can't wait to continue through into 2022 and beyond."
The final part of the biodiversity project will hopefully involve the planting of a further 75,000 hardwood and mixed conifer trees across 116 acres, in 2022.
John Fulham, relationship manager at Bank of Scotland, added: "With COP26 recently concluding, the spotlight is on businesses of all types to show how they're working to drive down their carbon footprint.
"Recent research shows that by 2030, nature-based solutions can provide more than a third of the emission reductions needed to keep global temperature increases under 2°C. Selcoth Farm's woodland biodiversity project is a prime example of a firm doing what they can to reduce their impact on the planet while paving the way for future generations.
"We'll remain by the side of Scottish businesses looking to go green and make sustainable changes both short and long term."