World's first tartan celebrating sustainable development goals presented to UN
The world's first tartan celebrating sustainable development goals (SDGs) has been created and presented to the United Nations (UN) in New York.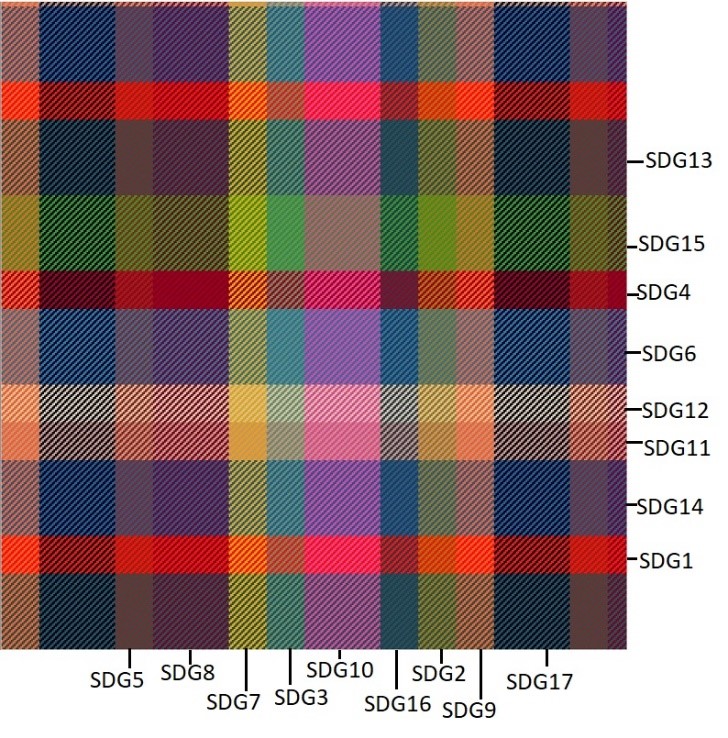 The project is designed to help promote the goals worldwide and demonstrate Scotland's support for the aims, using all 17 colours of the UN's SDGs.
SDGs are a collection of global goals to achieve a better and more sustainable future for all which were set by United Nations General Assembly in 2015.
---
---
The prototype tartan was the brainchild of the Global Ethical Finance Initiative (GEFI) and designed in conjunction with renowned Edinburgh-based kiltmakers Slanj, and has received the support of the Scottish Government.
In Scotland, the SDGs are implemented as part of the government's national performance framework.
GEFI brings together the world's business, political, and social leaders to build a fairer finance system for people and the planet.
It wants a fairer system of financial management that delivers more than just profit.
Along with a letter from the government, the design was this week unveiled to Achim Steiner, the administrator of the United Nations Development Programme, at the UN General Assembly in New York.
The prototype tartan will now be reviewed and submitted for entry on The Scottish Register of Tartans, and will later be used for kilts and other products.
GEFI will host a global summit on ethical finance in Edinburgh on October 8th and 9th, with First Minister Nicola Sturgeon delivering the keynote speech and a video address by the Archbishop of Canterbury.
Chris Tait, executive manager of the Global Ethical Finance Initiative, said: "The connection between the UN's sustainable development goals and Scotland inspired us to create the world's first SDG tartan. This project aims to further promote the goals both in Scotland and worldwide through an easily recognised visual symbol for all the SDGs, which also clearly links to Scottish culture and history by using a tartan. It's the perfect metaphor for the importance of looking at the SDGs as an interconnected unit to build a fairer world, rather than looking at each SDG individually. Achim Steiner was delighted with the tartan and said he would be hanging it on his wall."
In a letter to Mr Steiner, Ben Macpherson MSP, Scottish Government minister for Europe, migration and international development, wrote: "Tartan has an iconic status globally and domestically in Scotland, and is instantly recognisable as Scottish. The new SDGs tartan links Scotland's rich cultural past and our outward-facing future together with our core values, historical and contemporary, of fairness and equality. It is fitting, therefore, that GEFI have developed this new Tartan as a symbol of Scotland's dedication to achieving and promoting the SDGs both at home and overseas."
Brian Halley, managing director of Slanj, said: It has been an honour for Slanj to work on the SDG tartan and products with the GEFI team. We hope that this wonderfully vibrant tartan design can help highlight and support the UN Sustainable Development Goals."