Young entrepreneurs encouraged to apply to IMPACT30 support programme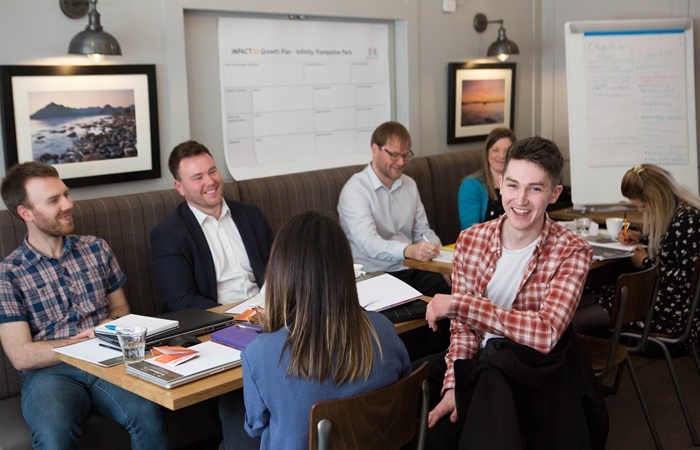 Young entrepreneurs in Scotland are being encouraged to sign up for the fully-funded business growth programme, IMPACT30.
The programme offers bespoke support from industry specialists and forms part of the Northern Innovation Hub, a project led by Highlands and Islands Enterprise (HIE), with £11m from the UK Government as part of the Inverness and Highland City Region Deal and £1.7m of funding awarded through the European Regional Development Fund Scotland Programme 2014-2020.
The deadline for the next round of applications is 21 June.
So far, 76 businesses have already benefitted from IMPACT30. Among them is Jordane Symington, owner of Islewear, a handcrafted designer Hebridean jewellery company based on the Isle of Lewis. Jordane joined the IMPACT30 programme in January 2021 and is urging others to do likewise.
She said: "Being on the IMPACT30 programme has given me access to specialist business support to help me think longer term about Islewear, considering projections and future plans. It has encouraged me to challenge my ambitions, thinking bigger than I ever thought possible. Working with my business enabler has helped me be accountable for my own progress and helped with areas I have lacked in previously.
"Being a part of the friendly community has been great and I know this network will help my business grow in the future, so much so my first retail shop is opening this summer on the Isle of Lewis.
"For someone thinking about applying to IMPACT30, my advice would be to just do it, put yourself and your business forward and be your own advocate - taking the first step is always the hardest part."
Jan Sutherland, owner of Jan Sutherland Floristry in Wick, has also benefitted from the programme. She added: "So far my IMPACT30 journey has been great. It was a busy start to 2021 work wise but being a part of IMPACT30 has allowed me to slow down, think of the future of my floristry business and what can be achieved in a couple of years.
"Having mentors to bounce your ideas off, webinars to attend and knowing someone is only an email away for advice, has been invaluable. If you're thinking about applying to IMPACT30, definitely do. It'll be one of the best things you can do for you and your business."
HIE has created additional spaces on the programme in response to consistently high demand.
Lizi Blackwood, development manager with the agency's Northern Innovation Hub, said: "IMPACT30 is about giving participants the chance to learn with and from the growing network of young entrepreneurs in the region, fuelling the ambition, energy and commitment needed to succeed. We've always had a great response to the programme, which is indicative of the extent of entrepreneurship that exists among young people in the Highlands and Islands.
"We would urge others, who have not yet taken part in IMPACT30, to consider an application, and we look forward to welcoming new young business leaders onto the programme this summer."
IMPACT30 is delivered on HIE's behalf by Anderson Anderson and Brown Consulting (AAB) who use their extensive business network to connect participants with top industry experts.
Mark Bell, programme director at AAB, commented: "It's fantastic that the word is spreading fast about the network of young entrepreneurs emerging through the IMPACT30 programme. Those we have worked with so far have shown great levels of ambition, energy, and commitment, which we have helped turn into growth.
"If there are more young entrepreneurs across the entire Highlands and Islands region with similar levels of ambition, energy and commitment we would love to hear from them."