And finally… Bark-lays
---

---
Barclays is offering free in-branch puppy session to soothe stressed students.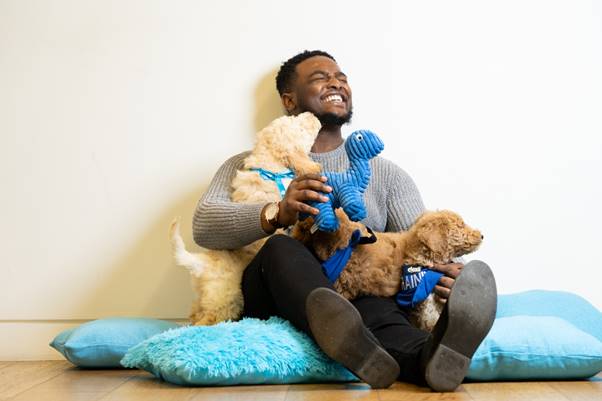 The bank announced today it will be holding a trial of a new service offering students the chance to attend free in-branch puppy sessions.
During the sessions, students will be able to cuddle and play with a litter of puppies, which studies have shown can be instrumental in reducing stress levels.
Whilst meeting the puppies, they can receive practical guidance on how to budget effectively for student life or overcome any of their money worries with one of the Barclays Money Mentors2 team, a specially trained group of money experts dedicated to helping people across the country take control of their money.
The service is being trialled in the Barclays branch at St Ann's Square in Manchester, with sessions available between 12pm and 3pm on Thursday 21st November.
However, students (and dog fans everywhere) who aren't able to attend the session can still de-stress as the puppies will also be live-streamed on Barclays YouTube channel.
he sessions are being trialled after research from the bank revealed that despite three quarters (76%) of students beginning with the best of intentions and setting themselves a budget while at uni, two fifths (39%) completely run out of money during their first term.
Of those, well over half (64%) had emptied their bank account by the term's mid-way point and 10% had even splashed all their cash after Freshers' Week, with the whole term still ahead of them.
The vast majority (94%) of students admitted they needed to supplement their student loan during their studies, with part-time term-time work being the most popular solution (41%) followed by borrowing from parents (35%).
It has also been revealed that as well as leaning on the bank of Mum and Dad to tide them over, over half (52%) of students also rely on their parents and family back home for much-needed financial advice.
New research from Barclays has revealed that money worries are negatively impacting students' anxiety levels (61%), mental health (55%), sleep (52%) and even relationships (34%) as a huge 83% admit that they worry about running out of money during their first term.
In fact, more than two in five students (41%) revealed they find managing money one of the most stressful parts of their whole university experience and worryingly, 44% of students said they don't know where to go for guidance when they have worries about their money, potentially adding to their stress.
Pip Landers-Letts, head of youth, student & graduate propositions at Barclays, said: "Moving away from home to attend university is a hugely exciting time but too many young people are having their experience affected by money worries.
"Our research found that nearly two thirds (63%) of students admit they thought it would be easier to manage their money at university than it is so we want to make sure that when they need help, there's a clear place to turn – and that is why we've introduced both our Money Mentors service and our new trial of the puppy sessions. We hope the service will help reduce students' stress levels and encourage them to open up to us about any money concerns they might have, within a safe – and fluffy – space."