Fiona McKerrell: Shepherd and Wedderburn collaborates with Care first this Mental Health Awareness Week
---

---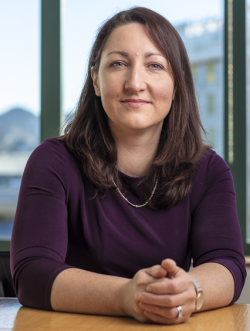 Fiona McKerrell, partner in Shepherd and Wedderburn's restructuring and business advisory team and a mental health first aider, discusses the importance of mental health.
As we enter Mental Health Awareness Week, Shepherd and Wedderburn is launching a collaboration with leading wellbeing services provider Care first to offer directors of companies that engage its restructuring and business advisory team free access to confidential counselling, this week and beyond.
Running a business can be incredibly fulfilling and exciting. However, it can also be incredibly challenging and stressful when times are tough. Many company directors have found themselves having to make critical decisions about the future of their businesses during a period of unprecedented challenge and uncertainty caused by the Coronavirus pandemic.
The typical director is trying their best to act in the interests of employees, creditors, and other stakeholders in the midst of a challenging economy that is pushing a growing number of businesses to the brink of insolvency. The decisions they have to make often have a direct impact on those around them, and on themselves in terms of their mental health and wellbeing.
Directors have been forced continually to adapt to regulatory changes affecting their businesses and to take measures to safeguard their businesses and staff, alongside trying to deal with the personal impact of the COVID-19 pandemic. While we are seeing early signs of an economic recovery as the UK eases out of lockdown, a growing number of businesses are facing an uncertain future. Recent figures show the number of small businesses in distress has tripled compared with the pre-pandemic average.
I am a partner in the restructuring and business advisory team at Shepherd and Wedderburn and a mental health first aider, helping colleagues who may be struggling with mental health or wellbeing issues access the support they need. My team and I work with company directors in times of stress and distress with the aim of rescuing their businesses wherever possible. In order to make good business decisions in fast-moving and challenging circumstances, Boards need high quality, specialist legal advice. However, we also recognise the importance of ensuring the mental health and wellbeing of directors is getting the priority it deserves. That is why we wanted to find a way to enable them to access the expert wellbeing support that, as lawyers, we are not qualified to provide.
Our solution has been to collaborate with leading wellbeing services provider Care first to give the company directors we work with free access to a wellbeing assistance programme. Care first offers 24-hour confidential counselling, information and support, with all calls answered by counsellors accredited by the British Association for Counselling and Psychotherapy.
We are proud to launch this value added service during Mental Health Awareness Week. By facilitating access to Care first's services, we aim to give directors access to the dedicated, expert support they may need to care for themselves so they are fully equipped, in turn, to look after the needs of their employees and make the best business decisions.
You can find out more about our collaboration with Care first and the services offered by our business restructuring and advisory team by visiting our website.