AAB Corporate Finance: 2021 was a 'bumper year' for M&A activity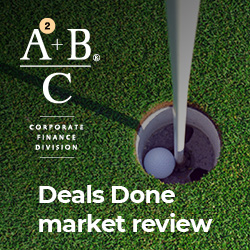 Anderson Anderson & Brown Corporate Finance (AABcf) has described 2021 as a 'bumper year' for M&A activity in its Deals+ half-year market review.
The review, which highlights selected M&A and fundraising transactions across Scotland, revealed that after a somewhat lull in the market during 2020, the M&A market was due for a rebound in terms of activity levels.
AABcf said that the appetite for investment from Private Equity firms has been noticeable throughout the year as investor confidence returned, and the firm saw these levels soar past those of a pre-pandemic world. It added that M&A activity levels remained healthy as companies looked to generate value and opportunities within the post-pandemic growth sectors.
According to the report, the Technology and Business Services sectors have been big winners throughout 2021, experiencing high levels of M&A activity as strategic acquirers show an appetite for consolidation and acquisitive growth as well as the active deployment of funds from Private Equity & Venture Capital firms.
---
---
There were a number of key deals throughout Q3 and Q4 of 2021 that have been driving forces behind the market rally.
AABcf saw agritech start-up Intelligent Growth Solutions complete its £42.2m Series B funding round in November, as it looks to take the next step in global growth.
Furthermore, the firm saw Aberdeen based subsea equipment rental company Ashtead Technology list on London's AIM market as they continue to grow their core business in subsea technology rentals and push to capitalise on the expected growth in the offshore wind market.
AABcf successfully completed more than 50 transactions, with a combined deal value in excess of £750m. To name a few, AAB client, James Donaldson & Sons, completed the transformational acquisition of Stewart Milne Timber Systems, creating a group of companies with over £400m of turnover.
Moreover, the team advised on the sale of driving licence and vehicle document check company Drivercheck to license checking and compliance company Ebbon-Dacs along with BGF's investment into innovative energy tech firm Isol8.
AABcf revealed that it expects deal activity to remain high into the start of 2022, as the market continues to rebound after the economic downturn of 2020.
In the review, AABcf highlighted a number of opportunities within the report in the technology, healthcare, food & drink and recruitment & training sectors.
A full list of the deals completed in Scotland and current opportunities can be found within the full report.