AAB Corporate Finance reports resurgent M&A market in first half of 2021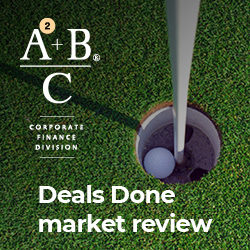 Anderson Anderson & Brown Corporate Finance (AABcf) has reported a resurgence in the M&A market throughout the first half of 2021 as it published its Deals+ Half Year Market Review.
AAB's report highlights selected M&A transactions, fundraising transactions as well as AAB transactions. The report also lists current opportunities in terms of active acquirers, investment opportunities and disposal mandates.
The firm revealed new optimism that both economic levels and particularly deal activity will continue to build amist talk of new M&A wave beginning.
AABcf highlighted that the start of the year began with a frenzy of activity particularly amongst E&P players looking to take advantage of asset sales in the North Sea and/or refinance existing debt to strengthen their balance sheets. This theme continued sector-wide as the firm witnessed notable increases in activity following a year of liquidity protection with large acquirers now having positioned themselves to explore new opportunities.
---
---
The firm added that several months further down the line and it is witnessing an increased number of businesses begin to strategically plan for life post-pandemic. After months of stabilization in the market, M&A activity looks as if it is set for exponential growth in the second half of 2021. There have been a number of key deals throughout Q1 and Q2, that could be seen as the building blocks of a post-pandemic market.
In the Energy sector, Cairn Energy sold its stakes in the Catcher and Kraken North Sea fields to Waldorf Energy in a deal valued at £330m. Elsewhere in the Technology sector, which flourished throughout 2020 and has continued to thrive in 2021, Edinburgh based MedTech firm Current Health raised £31m in an investment round led by Northpound Ventures.
Highlights in the Scottish M&A market this year and a testament to the rebound the market has undergone, were ready meal provider Parsely Box's IPO during Q1 2021, which saw the company valued at £84m when it initially floated on AIM. Furthermore, Scottish Malt Whisky Society owners Artisanal Spirits Company also listed on AIM during H1 2021.
Moving into the second half of 2021, the firm expects market momentum to continue, with a particular focus on Private Equity investments as they look to actively deploy capital unused from the struggles of 2020.
Within the construction and property sector, AABcf supported the acquisition of Scottish kitchen brand Kitchens International by James Donaldson & Sons to complement its retail and manufacturing portfolio.
In the energy and industrial sector, stand-out deals included ExxonMobil agreeing to sell most of their non-operated upstream assets in the UK central and northern North Sea to NEO Energy for $1 billion. The deal will result in NEO doubling their production.
In business services, AAB oversaw Global Energy Group's acquisition of Cammach Recruitment and Learning Curve's acquisition of Durham-based Acorn Training from competitor Babington.
Across the food, drink and hospitality sector, WooHa Brewing Company's assets were pushed by North Coast Brewing Company for an undisclosed sum while Russell Distillers, secured £1 million in financing from HSBC UK.
AAB has highlighted a number of opportunities within the report in the technology, healthcare, food & drink and recruitment & training sectors.
The full list of mergers and acquisitions and current opportunities can be found within the full report.