ACCA president backs Scotland-Asia links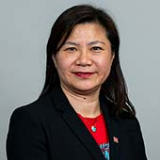 The global president of the Association of Chartered Certified Accountants (ACCA) has raised her voice in support of closer business links between Scotland and Asia.
Ms Gu celebrated friendship across business communities at a webinar hosted by the Edinburgh-based Asia Scotland Institute, which was attended by corporate leaders, finance professionals and academics from across Scotland, the wider UK and Asia.
Ms Gu, who is the first woman from China to serve as ACCA president, is chief executive of Richemont in Shanghai.
Speaking at the event, she said: "It is an honour and a pleasure to speak to this audience, and it is a privilege to lend my support to the growing commercial links between Scotland and Asia.
"I know that Scotland has always cast its eyes beyond its borders across the world in a spirit of friendship, and the enterprise and spirit of adventure that exists in the country has long served as a powerful force for economic growth.
"As somebody who comes from Asia and has spent most of my career in Asia, I know the full value of Scotland's contribution to the world of commerce, and I know that this will continue into the future."
Ms Gu answered questions across a range of issues, including the effects of Covid-19 on the global economy; the importance of diversity in the workforce and the boardroom; and the important role accountants can play in re-building the world economy.
Roddy Gow, chairman of the Asia Scotland Institute, said: "We were delighted to host Jenny. This was an invaluable talk in line with the institute's mission to educate and inspire tomorrow's leaders in Scotland to engage with Asia."