Corporate insolvencies in Scotland hit an eleven year high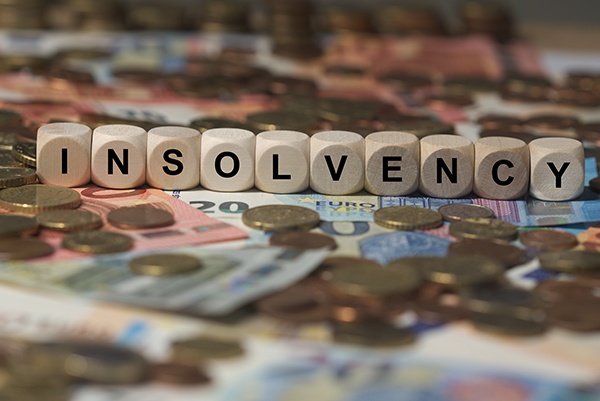 Corporate insolvencies in Scotland have reached an eleven year high, with 1,132 insolvencies recorded in the year 2022-23.
This year's figure marks an increase of 32.6% from 2021-2022's figure of 854, it also indicates a rise of 157.3% on 2020-2021's figure of 440, and a rise of 19.4% compared to pre-pandemic levels in 2019-2020 (948).
According to the figures, which were published today by the Accountant in Bankruptcy (AiB), there were 8,004 personal insolvencies in the year 2022-2023. This was an increase of 3% on 2021-2022's figure of 7,769, a rise of 5.3% on 2020-2021's figure of 7,600 and a fall of 40.7% compared to pre-pandemic levels in 2019-2020 (13,491).
---
---
A total of 590 bankruptcies were awarded during this quarter – an increase of 6.5% when compared to the same quarter in 2021-22. Protected Trust Deeds (PTDs) decreased by 1.6% to 1,322 over the same period.
In the fourth quarter of 2022-23, a total of 470 bankruptcy awards were made following applications submitted to AiB, all through the revised fee structure. Of this total, 403 (85.7%) applicants were not required to pay any fee at all.
There were 882 applications for moratoria granted in 2022-23 Q4. This is 156 (21.5%) more than the figure of 726 granted in the same quarter in 2021-22.
There were 1,205 debt payment programmes (DPPs) under the Debt Arrangement Scheme (DAS) approved in 2022-23 Q4, compared with 1,040 approved in the same quarter of 2021-22. A total of 450 DPPs under the DAS were completed in 2022-23 Q4 – a 2.4% decrease on the same quarter in 2021-22.
There were 451 DPPs revoked in 2022-23 Q4. This is 8 fewer than the figure of 459 revoked in the same quarter of 2021-22.
The number of Scottish registered companies becoming insolvent or entering receivership increased in the fourth quarter of 2022-23, with 346 companies becoming insolvent, 44.2% more than the figure (240) in the same quarter of 2021-22.
Commenting on the figures, Richard Bathgate, chair of insolvency and restructuring trade body R3 in Scotland and restructuring partner at Johnston Carmichael, said: "The Covid hangover continues to hit Scotland's businesses hard, with the figures published today showing that corporate insolvency numbers are at their highest level in a decade.
"Creditors' Voluntary Liquidation levels rose once again – to nearly double 2019's figures, and to the highest levels on record. This suggests that more and more company directors are choosing to close their businesses before that choice is taken away from them, and that businesses who made it through the pandemic with support from the Government are considering whether the debt they've taken on is sustainable.
"I would urge any director concerned about Bounce Back Loan repayments or other COVID-related loans to talk to their lender about what additional support options may be available."
Mr Bathgate stated however, that the figures go beyond levelling out pre-COVID insolvencies. He stressed that with labour, stock, and energy expenses all rising, even previously successful firms are now turning to an insolvency process to resolve their financial difficulties.
He added: "For Scottish consumers, uncertainty is high, and in turn, spending is low. Most are prioritising everyday essentials over more discretionary categories like beauty, home improvements, and nights out, leaving these types of businesses particularly vulnerable if this continues.
"Though the economy has shown some unexpected resilience so far this year, with a record low of unemployment levels and rising business confidence, I think a further wave of insolvencies is inevitable in 2023 unless the picture drastically improves.
"There are various avenues that businesses will try before an insolvency process, so it can take some time to see the true number of insolvent firms reflected in the statistics.
"It has also been a tough year for individuals in Scotland. There have been more than 1,130 personal insolvencies over the last financial year, driven by a rise in bankruptcies and protected trust deeds."
Mr Bathgate stated that the transition from the COVID-19 pandemic to the current cost-of-living crisis has been abrupt, resulting in financial difficulties for many people who are ow struggling make ends meet.
He continued: "For some, a build-up of savings has kept them afloat, while others have resorted to borrowing and credit options, even to cover the essentials which is a huge cause for concern. Excessive borrowing can put people in danger of falling into a long-term debt trap that may be difficult to escape, particularly given that the cost of debt is rising in line with higher interest rates.
"The rent freeze introduced last year gave tenants in Scotland some stability, particularly for those on low-incomes and most vulnerable to insolvency. But eyewatering energy bills and food inflation at a 40-year high have limited the impact of these measures."
Mr Bathgate concluded: "Our message is simple: don't struggle with financial worries on your own, whether you're a business owner or an individual.
"We know how hard it is to take the first step, but discussing your concerns with a qualified professional at an early stage can provide you with the time you need to make an informed decision about how you resolve your situation.
"The sooner you seek help, the greater the range of options available to you - and most R3 members offer a free initial consultation to help you gain a better understanding of your financial situation and the potential solutions to improve it."