Deloitte names new senior partners in Glasgow and Edinburgh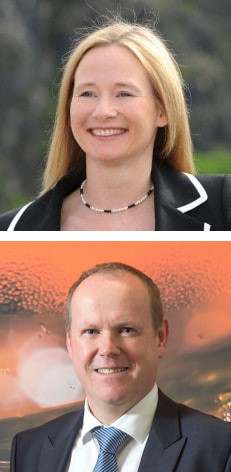 Deloitte has strengthened its leadership in Scotland with the appointment of Angela Mitchell and Douglas Farish as senior partners in Glasgow and Edinburgh respectively.
Mr Farish was previously the senior partner in Glasgow, but moves to Edinburgh to fill the vacancy created by the retirement of senior partner John Macintosh.
Ms Mitchell is now responsible for the growth and development of the Glasgow practice, as well as leading Deloitte's public sector practice in Scotland. She has over 24 years' experience of delivering services to clients across central government, local government, health, education and policing.
She became a partner in 2010 and is also a non-executive director for the Wheatley Group.
Ms Mitchell said: "Our practice in Glasgow is in a great position, and my goal is to build on its strengths by supporting further expansion across our business. Although our physical location is in Glasgow, our teams excel at delivering work at a national and global level, and I will continue to bolster our capabilities by investing in our people and clients.
"One of my priorities will be looking at how we further enhance collaboration and creativity among our people to best meet the needs of our clients and the communities we support. A focus on wellbeing and inclusion will be at the core of any such strategy and I look forward to working with my team to achieve this, whether working in an agile way from home or as part of any safe return to the office."
Mr Farish has been with the firm for 18 years and now heads up the tax practice in Scotland, alongside his role as office senior partner for Edinburgh.
He said: "Edinburgh is a key part of our operations in both Scotland and the UK, boasting an impressive number of specialisms. Part of my role as office senior partner is to grow awareness of the areas of expertise that are unique to our practice, helping to identify where these can present new opportunities for supporting our clients."
Stephen Williams, senior partner for Scotland at Deloitte, said: "Like many of the organisations we support, we are looking at how our own business needs to change in order to thrive in a very different world.
"Angela and Douglas' expertise and experience means they are perfectly placed to drive forward our priorities of transformation and building resilience within our Scottish practice."