Derek Money: CBILS can help Scottish businesses thrive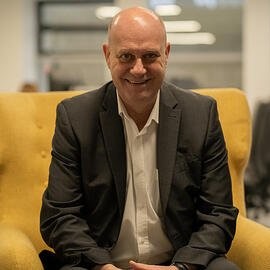 Derek Money, head of sales at White Oak in Glasgow, says that now is the time for businesses in Scotland to take advantage of the coronavirus Business Interruption Loan Scheme (CBILS) and look towards growth in 2021.
Scottish businesses have shown their true spirit during what has been the most challenging year in recent history. It is great to see that this fighting spirit remains, and it has been a privilege to be able to help businesses meet the challenges head on, adapt and look for opportunities and growth. The Government has been decisive in extending the scheme and it is now up to lenders and businesses to work together to make sure it is not a missed opportunity.
Whether it is navigating lockdown measures or having to battle a decline in new business, SMEs in Scotland have had to adapt to the new normal. Flexible financial support is key for those looking to modify their business whether that is adapting to different ways of working and managing cash flow or seizing an opportunity for growth. It has been amazing to see the pragmatic response to the pandemic from Scottish SMEs, many are applying for CBILS to not only survive but to also use the funding to thrive and grow in the future.
---
---
Whilst finding the right support can seem like a struggle, the process of applying is actually a simple one and one that has been perfected by independent lenders over the past few months of the scheme but also over years of supporting businesses. This is what we do best, and it is great to be able to provide the support the country needs.
SMEs play a vital role in the Scottish economy and indeed in that of the entire United Kingdom. By ensuring that all types of businesses are getting the financing they need now we can mitigate any issues and ultimately work together towards economic prosperity. In 2021 we want to see businesses thrive, employ people, and help build a stronger economy. Taking advantage of the CBILS scheme before the deadline on 31st January is a way in which businesses can shore up their finances now as we look to what we hope will be a better and brighter 2021.
When it comes to securing financing, the varying options on offer can be daunting. It can feel a real struggle when additional finance can't be accessed via their existing bank for reasons that they don't really understand or that are out of their control. It is important to find the right partner that you can jump on the phone with and get simple and sound information. Independent lenders have been playing a key role in getting support to businesses in Scotland and this collaboration with the business community must continue to find the best way forward.
At White Oak, we have lent over £450 million to businesses in Scotland and have a dedicated team on the ground in Glasgow who can support businesses across the country. The flexibility on offer is key with the ability to provide loans of between £75,000 and £5m with zero interest payable for the first 12 months allowing firms to ease the burden and manage cashflow issues.