Edinburgh student to spice up Scottish street food scene after award win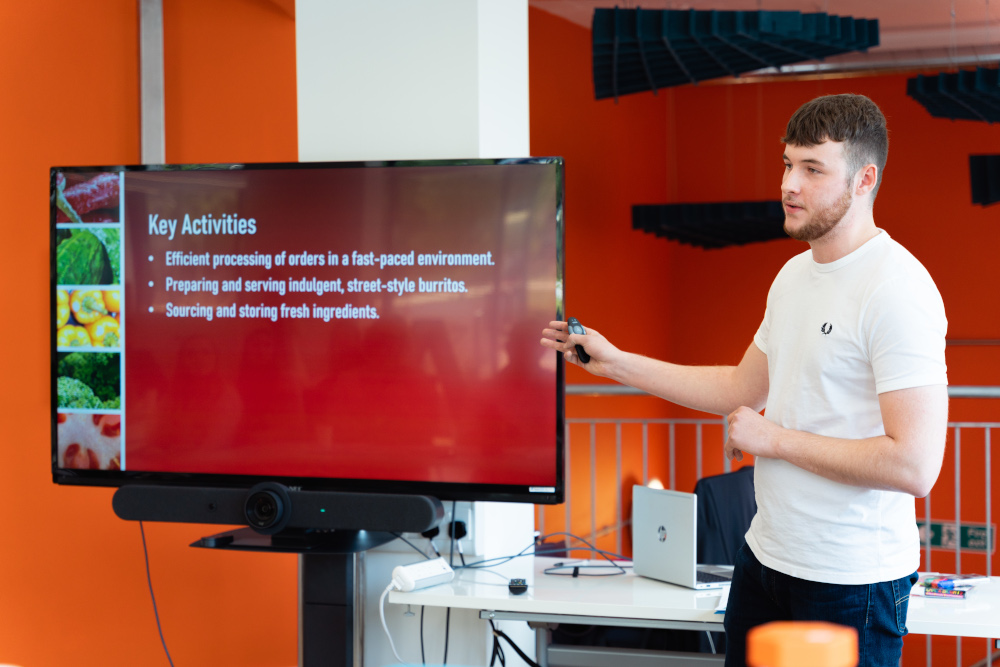 An Edinburgh Napier student has become the inaugural winner of the University's Appin Entrepreneurship Award.
Student Kael Begbie – known as The Hoagie Man – scooped the top prize of £2,000 after coming out top in the competition held at Edinburgh Napier's Bright Red Triangle last month.
Kael – who will this week graduate with a degree in business management from Edinburgh Napier - made a winning pitch, beating three other finalists to the top prize as he impressed judges with his plans to launch his new food business later in July at the popular Pitt Market in Leith.
Kael's food outlet specialises in wraps, with his signature dish – the hoagie – putting a Scottish spin on the classic burrito by substituting the regular meat ingredient of chicken or beef with haggis.
Alongside the prize money that he will use to help support the launch of his business, Kael will also now receive 1:1 business advice and support from Bright Red Triangle - a free resource for Edinburgh Napier students, staff and alumni to develop enterprise skills and entrepreneurship opportunities.
Kael Begbie said: "It was a special day; I really appreciate it and I am truly grateful for the support and encouragement offered to me by Damien and Bing as well as my Edinburgh Napier colleagues and fellow contestants.
"I'm very proud to be the first winner of this competition and it's given me a fantastic opportunity to grow my business with a generous investment. I hope to return for future competitions and see a new wave of young entrepreneurs boldly exploring new ideas and developing their businesses.
"Until then I'm excited to keep working on The Hoagieman and to see where this journey takes me next."
In its inaugural year, the Appin Entrepreneurship Award has been led by the University's Bright Red Triangle alongside support from its development and alumni relations team. It has been established to encourage and support the development of entrepreneurial ideas and concepts within the University's student and graduate community.
The award has been made possible thanks to the generous support of two trailblazing entrepreneurs, Damien O'Looney and Bing Li, who met whilst studying marketing and entrepreneurship at Edinburgh Napier.
The pair have funded the award and prize money to celebrate and recognise outstanding student and graduate entrepreneurs each year at the University.
As young entrepreneurs, Mr O'Looney and Ms Li co-founded UK-China Trading Ltd (UKCT), a product sourcing business in 2010, but didn't stop there.
Their entrepreneurial journey has seen the pair launch a number of successful businesses, including an English school in China, a property letting agency, a holiday letting agency, a sportswear supplier, a business which responded to the Covid-19 pandemic to source and supply PPE to the NHS and to various outlets internationally.
On Kael's award win, Mr O'Looney said: "We are both very much looking forward to hearing about all the new business ideas coming out of Edinburgh Napier. The Centre for Entrepreneurship was instrumental in bringing Bing and I together and gave us the knowledge and confidence we needed to try and run a business ourselves.
"It also gave us practical tools (finance, budgeting, marketing and promotion, business planning and pitching) which are needed in every business. We hope our Appin alumni award can help fledgling businesses with the cash they need to start their business.
"I hope Kael is successful - he seems to have all the right ingredients (pun intended) to make it a success!"
Dr Maggie Anderson, lecturer in entrepreneurship at Edinburgh Napier, said: "I'm delighted as the entrepreneurship lecturer to connect Damien and Bing – two Edinburgh Napier alumni entrepreneurs - with Kael, a current student, to fund and enable him to progress his business idea.
"The competition focussed this year on students who had studied the Starting a New Business module and it was great to have so many keen to take their ideas further- that's what entrepreneurship is all about.
"We look forward to further completions thanks to the generous funding now in place, to enable many more students to become alumni entrepreneurs of the future."