Fairlie Curved hits turnover of a quarter of a million after support from Business Gateway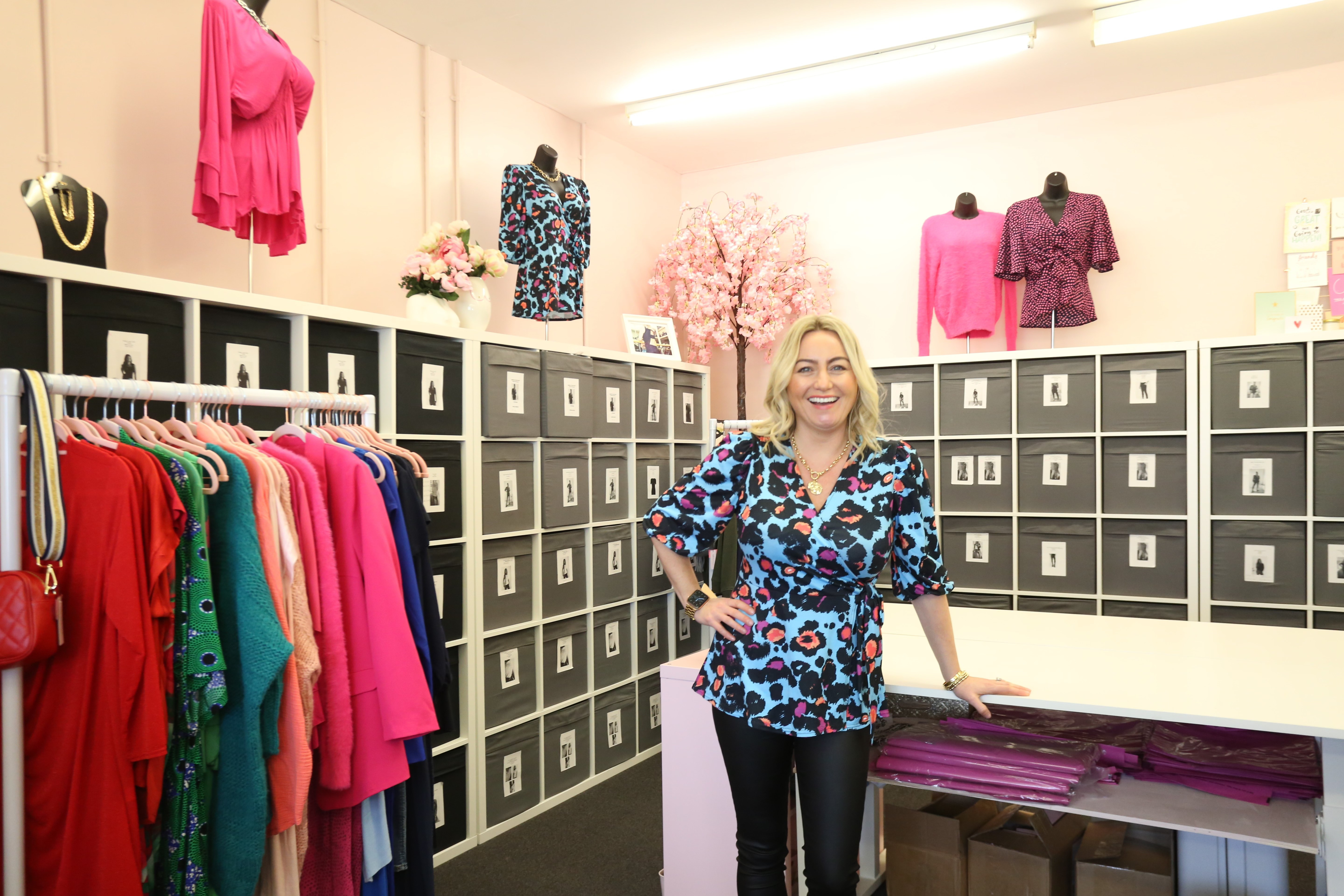 Fairlie Curved, a Scottish fashion company is now shipping internationally and has hailed turnover of a quarter of a million pounds after receiving support from Business Gateway.
Jayne Lasley launched Fairlie Curved as an Instagram page in October 2020, inspired by her personal experience of struggling to find clothes for fuller frames. It has since transformed into an e-commerce business selling clothing and accessories for women above a D-cup.
Ms Lasley, a fashion graduate of Heriot Watt, spent more than 20 years in the industry working as a buyer for several high-street brands including New Look and Internationale. After being made redundant during the pandemic, she came across an old clothing collection she had designed in her final year at university to cater for fuller-busted women. Passionate about body positivity and sharing her knowledge, she launched an Instagram page to share her tips; within a week, she had 1,000 followers and women around the world interested in her fashion know-how and relatability.
---
---
Buoyed by the response, Ms Lasley used her old sewing machine to design and sell a white organic cotton t-shirt, ideal for hourglass figures, via Instagram which received orders around the UK. Spotting a gap in the market and enthused by the initial success, she contacted Business Gateway in 2020 for advice on scaling Fairlie Curved's operations, and was put in touch with a dedicated local business adviser who helped Jayne to establish a business plan and set goals.
Business Gateway was instrumental in helping Ms Lasley to secure her first HQ office premises in Paisley in early 2021, and also offered guidance on securing an interest-free loan to purchase initial stock. Business Gateway's research services have been essential for helping expand Fairlie Curved's product range with Jayne regularly introduced to new contacts, including the supplier of her best-selling leather jacket.
Ms Lasley has also accessed free marketing workshops and specialist advice on WordPress, to lay the groundwork for her now fully established website.
Last year, Business Gateway introduced Ms Lasley to Invest in Renfrewshire and Graduate Career Advantage Scotland, and as a result she now employs a graphic designer and a social media marketing executive. With additional guidance on grant funding, Jayne has also secured over £2,000 as part of a 50/50 grant to purchase computers for her new team.
Within just two years of trading, with support from Business Gateway, Ms Lasley has grown a community of 20,000 followers, with Fairlie Curved successfully turning over £250,000. She was recently awarded Business Women Scotland's Start-up Business of the Year and has been listed in The Telegraph's 100 Female Entrepreneurs to Watch. Most recently, she has been announced as a finalist for the Federation of Small Business Awards in the start-up business category.
Ms Lasley said: "Although I had lots of experience in the fashion industry, I'd never run a business, and didn't have any plans to when I launched the Instagram page. My vision was to offer fashionable but classic options that would stand the test of time while empowering women.
"Business Gateway played a huge part in helping me to take the plunge to transform Fairlie Curved into an established business. It was incredibly daunting, but I always knew that my adviser would be at the other end of the phone. Support from Business Gateway has been invaluable."
Mario Alonzi, Business Gateway adviser, added: "We were able to support Jayne through a range of Business Gateway's start-up services. She has identified a real gap in the market with Fairlie Curved, and it has been fantastic to watch her business go from strength to strength. The global growth and financial success are a testament to her business savvy but also her dedicated passion to what she wants to achieve and help other women feel."
As demand continues to grow for Fairlie Curved products, Ms Lasley has now moved into larger premises in Port Glasgow. Looking to the future, she now has plans to develop the wholesale part of Fairlie Curved and will be focusing on pop-up events and visibility in boutiques and bricks and mortar stores.