Former head of KPMG joins Edinburgh climate change centre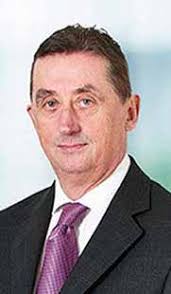 A former global CEO of accountancy giant KPMG has been appointed as chair of a new strategic board by the new Centre for Business, Climate Change and Sustainability (B-CCaS) at the University of Edinburgh.
Mike Wareing CMG is an honorary professor at Edinburgh Business School, as well as former global CEO of KPMG and former chair of defence firm Cobham.
He has worked on homelessness in London and as an envoy for post-war rebuilding and economic development in both Iraq and Afghanistan.
---
---
Mr Wareing will chair the strategy board, which brings together considerable expertise and insight from global business, the UN and the public policy arena to help shape the new centre's direction.
Joining the board as non-executive directors are Dr Barbara Hendrie OBE and Lord Dr Michael Hastings of Scarisbrick CBE.
Dr Hendrie is North American director of the United Nations Environment Programme (UNEP). She has over two decades of experience as a senior international diplomat, working for the UK and US governments.
Lord Hastings is Chancellor of Regent's University London; professor of leadership at the Stephen R Covey Leadership Centre, Hunstman Business School, Utah State University; and vice-president of UNICEF, the United Nations Children's Fund, which provides humanitarian and development aid worldwide. He is also former head of public affairs at the BBC.
Dr Sarah Ivory, director of the B-CCaS, said: "Our centre's mission is to be a catalyst for positive social and environmental change, so it's fantastic that we've secured the services of these thoughtful and connected global figures.
"Mike, Barbara and Michael bring real insight from key sectors and will help steer our centre in a direction that ensures we offer innovative solutions, contribute to crucial debates and inspire change."