Johnston Carmichael celebrates new Dundee hub with V&A evening
More than 140 guests from the business, arts and education communities joined accountancy and business advisory firm Johnston Carmichael as it hosted an evening of discovery at the V&A to launch its new Dundee office.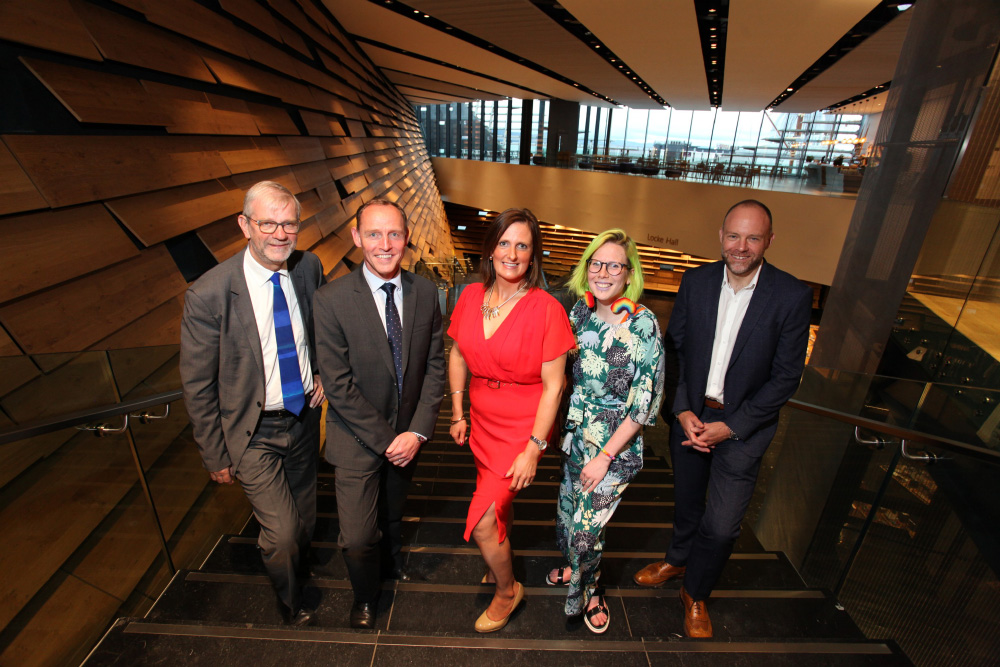 The firm recently established a new hub in the city to provide bespoke services to Dundee's growing sectors including technology and life sciences.
The V&A event was held to celebrate the opening of the office and share how Johnston Carmichael plans to support the development of the city's businesses as well as the wider community.
Guests were welcomed by Andrew Walker, Johnston Carmichael's CEO, and Jenn Stewart, restructuring director and head of the firm's Dundee office, before being addressed by Sir Pete Downes.
Sir Pete, former Principal and Vice-Chancellor of the University of Dundee, and a leading figure in the pharmaceutical industry, is a senior adviser to Johnston Carmichael and has been integral to the establishment of the Dundee office. He also played a leading role in bringing the V&A museum to Dundee.
As part of the evening, guests took part in an interactive poll to share their views on the transformative journey that the City of Dundee is currently on.
When asked to choose one key quality which sets Dundee apart from other UK cities, more than a third (36%) praised the city for its lifestyle, including ease of commuting and opportunity for work-life balance. Almost a third (29%) cited its track record of innovation and just under a quarter (23%) referred to "the character of the city".
In considering the potential challenges that could stand in the way of the city achieving economic and population growth, more than half of respondents (56%) said that attracting and retaining talent would be the main challenge, followed by attracting the required investment, which was the view of just over a quarter in the room (26%).
Before the evening closed, guests had the opportunity to visit the V&A's blockbuster Design/Display/Disrupt video games exhibition.
Sir Pete Downes said: "Dundee is a truly inspirational city and it's been a privilege to be part of its recent renaissance.
"Thriving businesses are crucial to help us build on the success of the V&A and I am proud to be working with Johnston Carmichael to help support the city's business community and create economic opportunities for all.
"I hope everyone who joined us at the V&A got a sense of our aspirations and will share our journey helping to forge the future for Dundee."
Alison Henderson, CEO of Dundee and Angus Chamber of Commerce, who attended the event, said: "The leadership that Johnston Carmichael has shown by establishing itself in the city is very important for the business community.
"We've seen considerable change, but there is still some way to go. The firm will help bring communities together and encourage greater collaboration."
Johnston Carmichael's Dundee team is based in the landmark Dundee One building set amid the Dundee Central Waterfront. Its team, headed by Jenn Stewart, and includes innovations taxes senior manager Andrew McMillan, business advisory manager Ryan Milne and newly-appointed senior manager Kirsty Yuill.
They will be supported by a mobile and highly experienced specialist team including head of entrepreneurial taxes, Andrew Holloway, and head of technology and life sciences for the firm, Shaun Millican.
Its expert team will also support businesses from its other key sectors including food and drink and agriculture as they harness technology to boost their operations and grow.
Mr Walker, CEO, said: "I'd like to thank all of the guests who joined us at our launch event, and I hope they enjoyed hearing about our plans to support the city's businesses as they grow from spin-outs to start-ups, scale-ups and beyond. Since opening our office in June we've been extremely impressed by the extraordinary talent, enthusiasm and ideas that exist in Dundee."