Jon Pickstone appointed to board of Institute of Economic Development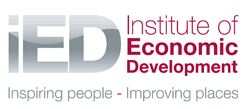 Jon Pickstone, deputy director of regional economic development at the Scottish Government, has been elected to the board of the Institute of Economic Development (IED).
The EID is the UK's leading independent professional body for economic development and regeneration practitioners working for local and regional communities.
Mr Pickston leads the division of the Scottish Government responsible for place-based economic growth. This includes sponsoring Scottish Enterprise and Highlands & Islands Enterprise; setting up the South of Scotland Enterprise Agency; City Region and Growth Deals; Regional Economic Partnerships; Scotland's Centre for Regional Inclusive Growth; Community Wealth Building; Enterprise Areas; and Urban Policy and the Scottish Cities Alliance.
He previously led the Scottish Government's economic engagement in London, having also held roles at the Department for International Trade, Department for Business, Innovation and Skills, and the Homes and Communities Agency.
---
---
A Fellow of the IED, Mr Pickstone said he was delighted to join the institute's board of directors.
He said: "I have been an IED member since 2010 and originally did so to gain professional accreditation. Over the years, I have got to know others in the Institute and now I want to contribute further. It is a great opportunity to network with like-minded individuals and, as the only UK body devoted to economic development, we have an opportunity to provide a well-rounded professional offer for a range of practitioners."
Mr Pickston added that a collaborative approach, including with other professional bodies, was essential.
He continued: "The IED provides a platform to converse on the major long-term questions facing economic development around business, community and place. It can help to ensure wider understanding of best practice economic development in Scotland, and likewise support The Scottish Government's own focus on driving sustainable inclusive growth. The IED's ability to offer practical and bespoke training, as well as general knowledge-sharing, can only help us all."
Bev Hurley, IED chair, commented: "The board are delighted to welcome Jon and we are sure that his expertise in economic development and regeneration within private practice, government agency and Whitehall experience will be of great value to the Institute and its members."