EY Scotland celebrates promotions amid record UK revenues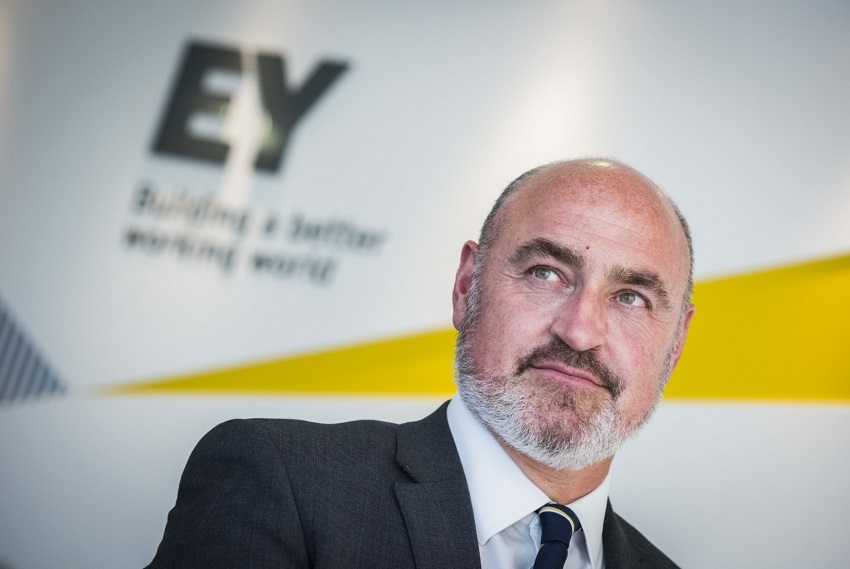 EY Scotland has welcomed the appointment of nine new partners, 150 promotions and 100 graduates and apprentices, as the firm announces record UK revenues of £3.8 billion in FY23.
The partner appointments include seven internal promotions and two external hires, across Edinburgh and Glasgow, bringing the EY Scotland Partnership to 85. The new partners are Carla Mulherron, Chris Webster, Andrew Duke, Alistair Brannan, Jacqueline Quinn, Oliver Henderson, Kieron Alsop, Rick Hemsley and Catherine Thorn.
The new appointments, which brings EY Scotland headcount to more than 1,300, reflect the firm's increased investment in its sectors, service lines and the local firm, in areas such as Audit, Financial Services, Technology Consulting, EY Parthenon, Private Equity, and Tax. Celebrations also extend to 150 people who have been promoted internally across Scotland in recognition of the strength of home-grown talent being cultivated within the firm.
---
---
EY Scotland managing partner, Ally Scott, said: "It's been a great year for the firm across the UK and here in Scotland. These promotions reflect our continued investment in our local business as well as the hard work and talent of our people to reach this significant career milestone.
"Our growing team in Scotland will continue to help clients navigate ongoing economic uncertainty, prepare for future growth, and build a vibrant, resilient business community on the back of a strong year for EY."
EY Scotland managing partner for financial services Sue Dawe added: "The long-term investments we've made in the business have underpinned our growth and position us well to continue this trajectory. Our new partner appointments and our 150 newly promoted people here in Scotland will bring a wealth of experience to our clients across a range of sectors as we transition to a green economy, respond to rapidly emerging technologies and continue to attract foreign investment to Scotland."
EY has achieved a second year of double digit growth, with UK revenues up 16% and fee income increasing to a record £3.76bn from £3.23bn the previous year. Distributable profits before tax increased 4% to £659m.This market leading performance has been underpinned by long term investments in people, audit quality and technology.
EY achieved strong growth across all of its service lines in the UK. Tax revenues grew by 20%, Consulting 18%, Assurance 17% and Strategy and Transactions by 8%. EY has also seen strong demand across its industry sectors with stand-out performances from Energy (28% UK revenue growth), Government & Infrastructure (26%), Technology, Media & Telecoms (15%) and Financial Services (12%).
EY has continued to make significant investments in talent across all parts of the UK, providing a platform for strong and consistent growth in FY24 and beyond. Over the last financial year, EY recruited 5,326 people, with 39% of hires based outside of London. Since January 2023, EY has welcomed over 1,800 graduates, school leavers and interns with 40% based in regional locations. As part of a commitment to social equity and targeted actions to attract talent from low-income backgrounds, around 11% of EY's student intake disclosed they were previously eligible for free school meals. In September, the firm also announced plans to create 1,000 new jobs in Northern Ireland over five years.
The new partners
Alistair Brannan has over 18 years' experience in financial services across industry and consultancy, and has worked with large UK and global firms in commercial, strategy and risk disciplines. Alistair has been appointed equity partner (from partner) in the UK Life and Pensions leadership team, and will lead the Client and Markets function for financial services in Scotland. Passionate about the growth and success of the financial services sector in Scotland, Alistair also works closely on a number of initiatives with Scottish Financial Enterprise.
Carla Mulherron joined EY as a graduate in 2010 and now leads the Direct Tax and Tax Accounting team as an equity partner. Carla started her career with EY in Edinburgh, where she is now based, having previously worked in London and Kuala Lumpur. Carla works with some of the firm's largest clients delivering complex multi-country direct tax outsourcing and transformative Global Compliance and Reporting and Tax Finance Operate engagements.
Jacqueline Quinn has been promoted to equity partner in the firm's Technology Consulting practise in Financial Services, specialising in technology driven transformation. With 19 years' experience, Jacqueline is a leader in our UK Banking & Payments team and supports clients on their strategic transformation agenda's.
Oliver Henderson has over 17 years' experience of working with clients on Transactions in the Financial Services sector, including both buy-side and sell-side for Private Equity and corporate clients. Oliver has been promoted to equity partner (from partner) and leads EY's FS Strategy and Transaction team in Scotland. He has a broad range of transaction experience across Wealth and Asset Management, Asset servicing, FinTech, banking and speciality finance.
Rick Hemsley joined the firm as equity partner has over 25 years' experience in cyber security, across consulting and industry, and now leads the cyber security team for EY in Scotland. Rick has worked with public and private sector clients across a number of different industries on complex cybersecurity challenges.
Andrew Duke has 11 years audit experience and has spent much of his career working in the financial services sector in both London and Edinburgh. Andrew has worked on large domestic and global audits and, whilst a specialist in retail banking, has significant experience in other aspects of financial services such as infrastructure, investment banking and insurance.
Catherine Thorn is a qualified actuary and joined EY in June as partner. Catherine has over 30 years' experience in the insurance industry, including in non-actuarial roles such as compliance, sales and marketing, product development and capital management. Catherine has been a member and Deputy Chair of the Scottish Board of the Institute and Faculty of Actuaries (IFoA) and a member of two IFoA working parties on with-profits.
Chris Webster joined EY's tax practice in 2014 and has been promoted to partner in the firm's Global Grants Credits & Incentives team. Chris is a former manufacturing engineer who worked in new product development and has 14 years' of industry and consultancy experience. Chris is tax qualified and advises companies on eligible incentives, such as R&D tax credits, across a range of sectors including manufacturing, energy, life sciences, timber, and food and drink.
Kieron Alsop joined EY on the graduate program in the Edinburgh office, where he has been for 18 years. In his time in the firm he has worked across a very wide variety of financial services sectors and clients, in the main supporting the BCM and Insurance sectors. He is particularly driven by a focus on quality delivery, and a great experience at work for fellow EY people. Beyond that, Kieron likes to spend time in the Highlands with his wife and son, and enjoys running when time permits.