Lloyds Banking Group to let customers set their own contactless limits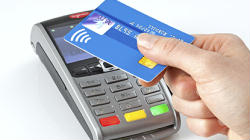 Bank of Scotland-owner Lloyds Banking Group has announced that it will allow its customers to set their own contactless spending limits after concerns over fraud were voiced by some of its customers.
In August, the Treasury announced that the contactless spending limit would be increased to £100. The cap is set to come into force on October 15.
Lloyds debit cardholders can choose their own limit from £30 to £100 in £5 steps if they have an account with Lloyds Bank, Halifax and Bank of Scotland.
Debit cardholders will have first access to the sliding scale of limits, followed by credit card customers.
The move is thought to be the first of the four biggest banks to make this step. Royal Bank of Scotland-owner Natwest currently allows its customers to disable contactless functionality on their cards, effectively setting the limit to £0. While Barclays customers can set spending limits in general but not contactless limits on their cards.
Contactless technology allows for payments to be made with a tap, without any further checks such as a PIN or signature. However, it also makes it easier for thieves to use the card if it is lost or stolen, especially if a victim has not yet noticed and informed their bank.
Contactless technology was introduced as a simple way to make quick, small purchases such as a sandwich or a round of drinks. The initial £10 spending cap has been repeatedly increased since the cards were rolled out, to £20 in 2012, to £30 in 2015 and then to £45 last year, in response to the pandemic.
Philip Robinson, PCA, payments and fraud & financial crime director, at Lloyds Banking Group, said: "When the contactless limit increases, our customers will be able to use new tools in our mobile app to switch contactless on and off and also set their own transaction limit. We've listened to customer feedback to introduce this option which will allow them to make the most of the £100 limit in a way that works for them."