Loganair turnover halved to £81m in 'most challenging' year yet
Glasgow-based Loganair saw its turnover halve to £81 million in the 12 months ending 31 March 2021, marked by the full impact of the Covid-19 pandemic.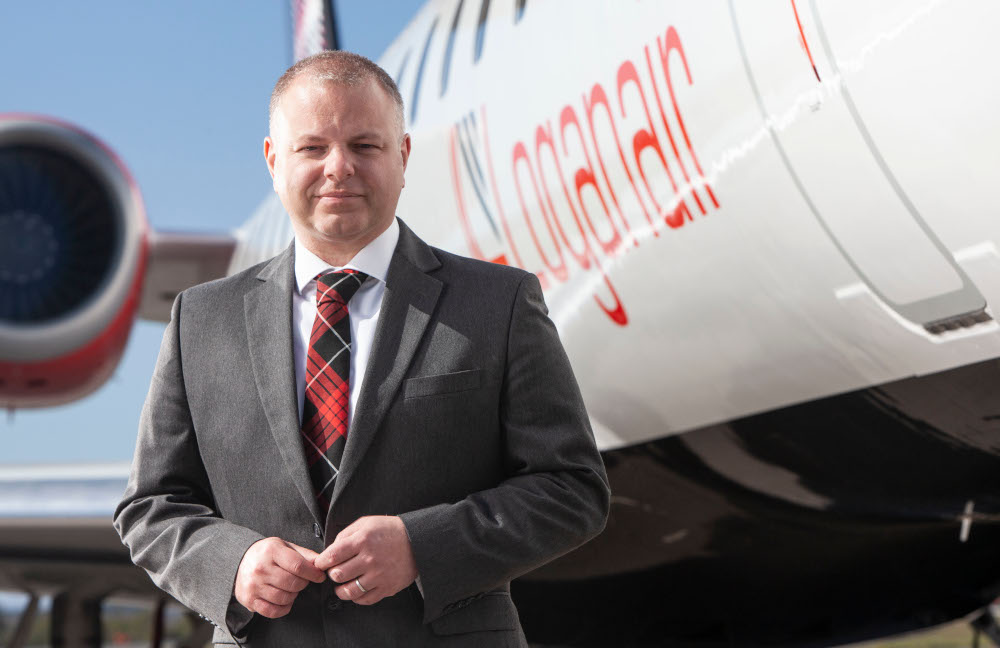 The UK's largest regional airline flew every day throughout the pandemic, ensuring that essential travel needs for communities in the Scottish islands, the Isle of Man and Northern Ireland were never interrupted.
Two of Loganair's aircraft were converted to become air ambulances to support the Scottish Ambulance Service, and its dedicated freighter aircraft flew nightly trips to carry Covid-19 test kits.
Contracts to fly for major energy companies and to carry cargo and mail were also flown without interruption, and the availability of aircraft and crews facilitated Loganair's largest-ever programme of ad-hoc charter flights for construction workers, ships' crew changes.
One Loganair aircraft was hired to act as an "extra" in the filming of a Bollywood movie. A new long-term contract to fly between Aberdeen to Sumburgh for a group of oil companies commenced in July 2020, and this contract was expanded in July 2021.
However, as a result of the pandemic, Loganair's passenger numbers fell from 1.05 million in 2019/20 to 252,259 in 2020/21, and its turnover more than halved from £169 million to £81 million.
A combination of careful cost controls and flexibility to rapidly change its business model in the face of the pandemic has led the airline to report a much-reduced pre-tax loss of £5.6 million for the year, in comparison to the £12.7 million loss before tax reported in 2019/20. Underlying pre-tax trading loss for the year was £1.2 million.
Commenting on the results, chief executive Jonathan Hinkles said: "Without doubt, the last year has been the most challenging in Loganair's 59-year history.
"The fact that we've been able to weather the storm is entirely thanks to the dedication and commitment of our people. We are incredibly grateful to all of them – and their contribution means that we believe Loganair is in the strongest position of any UK regional airline as we emerge from the pandemic."
Loganair has worked closely with its employee groups and recognised unions throughout the pandemic, and in addition to working to support them through the CJRS furlough scheme, agreed a series of pay reductions for every one of the airline's employees. From 1 September 2021, all Loganair employees returned to full pay; its recognised unions have welcomed Loganair being the first major UK airline to achieve this milestone.
All of Loganair's 42 aircraft are in service, with data from European air traffic control provider Eurocontrol showing that Loganair has consistently been the only major European passenger airline operating more flights in October 2021 than in 2019. Several UK domestic routes, together with flights to Ireland and Denmark, suspended during the pandemic have all now been successfully re-opened - including 16 intra-UK routes formerly flown by Flybe. Flights to Norway from Edinburgh, Newcastle and Shetland will resume in Summer 2022.
The airline has also continued with its fleet renewal programme, introducing two more ATR turboprop aircraft in October alone. These are the most environmentally-efficient aircraft in the regional sector, supporting Loganair's ambitious GreenSkies programme in which it has committed to becoming carbon neutral by 2040. In the meantime, carbon offsets for every Loganair flight were introduced from July 2021, and this measure has been positively received by key stakeholders and customers alike.
In July 2020, Loganair entered into a new CLBILS loan facility of up to £25 million with Clydesdale Bank and its owners committing a separate package of support of £11 million over two years. The airline's cash balance at 31 March 2021 was £19.5 million.
"Over the last 18 months, we've seen an amazing team effort to make sure that Loganair not only kept flying, but is now well positioned as life gets back to normal after COVID-19," said Mr Hinkles.
"We're cautiously optimistic about the future; although we'll still see challenges including reduced demand for business travel and concerns about aviation's impact on the environment, we are confident that we can comprehensively address these with the same agility and team spirit which has served us so incredibly well throughout the pandemic."