Multi-million-pound Smart Green Shipping project to make shipping 20% greener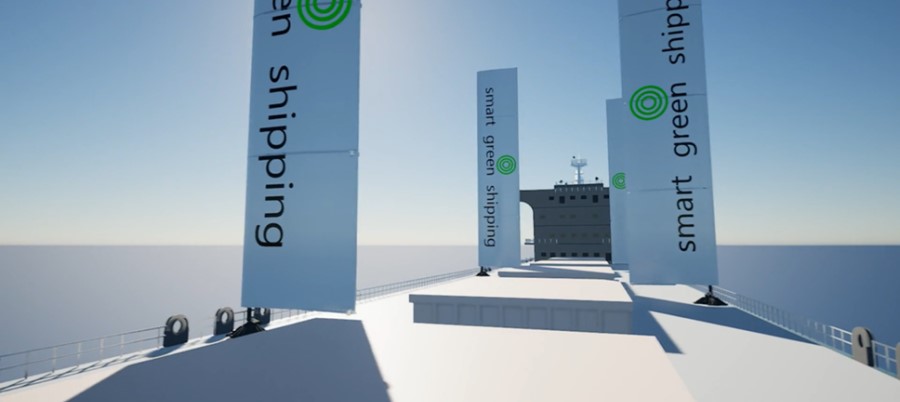 Dumfries-based Smart Green Shipping, a systems design and engineering company, aims to lead global shipping's green transition through a unique industry collaboration with Malin, Drax and the shipping sector with targets to reduce greenhouse gas and fuel costs by at least 20% via high tech sails.
The company received a £1.8 million grant from Scottish Enterprise towards a research and development project with a total value of £5m match funded by the private sector.
Smart Green Shipping is set to develop new concepts for shipping through renewable engineering of FastRig wing sails as well as weather routing software and circular economy business models over the course of a three-year project.
---
---
The company is initially investing in 13 new roles to support the business in evolving its technology and has plans to install its demonstration FastRig at Peel Ports Hunterston Port and Resource Centre (Hunterston PARC) in collaboration with Clyde-based specialist engineering partner Malin. This will create a wing sail manufacturing base in Glasgow with plans to have a demonstrator FastRig for testing on a commercial ship by 2023.
Ivan McKee, minister for business, trade, tourism and enterprise, said: "Scotland has long had significant shipbuilding capabilities which play an integral part as we strive towards a fairer, greener and more prosperous economy. We want to become the home of manufacturing innovation, and to be seen as inventors and producers.
"We are fully committed to meeting our climate targets of reaching net-zero by 2045 and decarbonising transport is a crucial part of the wider changes needed to achieve this. COP26 in Glasgow highlighted innovative thinking would be key to achieving these aims. The FastRig project is an excellent example of how innovation can help us progress in low carbon technologies and ensure Scotland is playing its part in these developments, creating more green jobs and business opportunities to take us on a Mission Zero for transport."
The initial stages of the project will manufacture and deploy FastRig systems designed to augment any ship's powertrain to save fuel, reduce mechanical wear and generate emissions credits. In addition to the physical sail the company is also developing digital tools, in a project called TradeWind, that uses data to predict and optimise wind-use in shipping.
Smart Green Shipping chief executive Diane Gilpin, added: "Our purpose is to develop financially and technically superior solutions that support shipping's green transition. There are huge commercial benefits to developing transformative systems.
"We're in a climate emergency and we're thrilled to be benefiting from Scotland's support. It's a country that punches above its weight with its ambitious net zero response and for the country to get behind Smart Green Shipping's FastRig and 100% renewable ships will enable us to get to market and start driving down emissions all the sooner."
Scottish Enterprise and South of Scotland Enterprise supported the company following collaboration at COP26 in Glasgow in November.
Scottish Enterprise director of economic opportunities and climate Suzanne Sosna, added: "Our work at COP26 in bringing innovative companies together with the shared ambition of creating a greener Scottish economy helped attract Smart Green Shipping to Scotland.
"I'm delighted our support allows the company to scale up its digital technology and engineer a working FastRig through access to talent, infrastructure and manufacturing resources for this collaborative project.
"Scotland has a very proud shipbuilding heritage, and it is fitting that Smart Green Shipping's project will be anchored on the Clyde in Glasgow where the future of green shipping can turn the tide to meet global net zero targets."