Newly launched Uile-bheist Distillery reveals trio of leadership appointments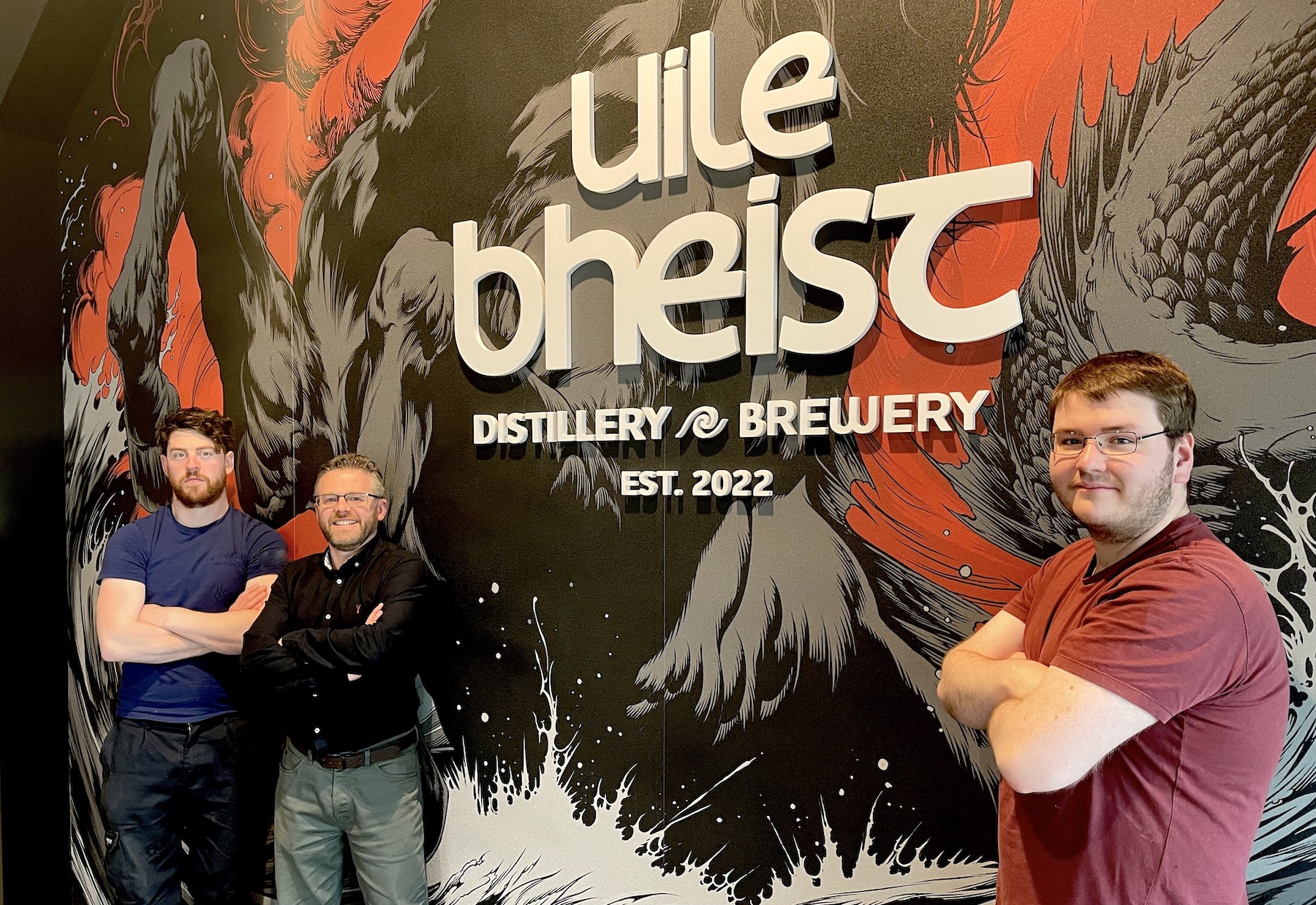 Inverness-based Uile-bheist Distillery and Brewery, has appointed a new general manager, head distiller and head brewer, coinciding with the introduction of its first product range to the market.
Following its establishment in February this year with a £7.5 million investment, Uile-bheist emerged as the first distillery in Inverness in over a century. With its unique sustainable energy system, the facility utilises water from the River Ness.
The distillery has now completed commissioning and started selling its first two beers with plans to cask its maiden single malt soon. The triple senior appointment will help oversee the next phase of growth.
---
---
The new general manager, highlander Donnie Christian, brings three decades of experience in retail and visitor experience management in Ireland and Scotland. He returned to the highlands following the pandemic after helping transform the retail operation at Dublin City University, including developing a franchise of convenience store brand, Londis.
His immediate objectives include maximising Uile-bheist's retail prospects and establishing the 'brew-stillery' as a must-visit location in the Inverness and Highland tourist circuit.
New head distiller Andrew Shearer has a Masters in Distilling and Brewing and worked as a whisky quality analyst for Glen Turner before becoming head Distiller at Kinrara in the Cairngorms National Park.
He is overseeing the production of Uile-bheist's eagerly awaited first single malt whilst Andrew Hodgson is spearheading the brewing side following seven years of experience with Black Isle Brewery and Tempest Brewing Co. in the Borders.
Uile-bheist's first products, the 'Inverness Lager' and 'Forest Dweller' IPA, are now available in local hotels and the distillery's own tap room. The production of the maiden 'Dark Horse' highland stout is underway. The company is also gearing up for a peak in facility tours during the summer tourist season, highlighting its on-site Sustainability Centre.
Mr Christian said: "What we have here is pretty unique. We want to maximise its potential, but do that in a way which is sustainable. This informs all of our processes.
"We've got a fantastic new team, with our two Andrews, who are adapting the distilling and brewing process around our sophisticated Kaspar Schulz technology, from Germany.
"Ultimately, we want products we are proud of and production is developing nicely. We also want to help make Inverness — one of the fastest growing UK cities — a base which visitors want to stay in and enjoy."
As the first Uile-bheist whisky casks are soon to be filled, investors have the opportunity to purchase casks starting at £6000.
Mr Shearer said: "Because we are using brewer's yeast instead of traditional distiller's yeast, we are getting a lot of character. We are leaving a lot more flavour in, perhaps at the cost of yield, but we are all about quality and that uniqueness of character."
The new 2-man production team are expected to work flexibly across distilling and brewing processes, shaping a product line that is high in quality and distinctiveness while contributing to the sustainable vision of the distillery.
Mr Hodgson added: "Coming here was an opportunity to work on what I feel is the most sophisticated brewhouse in Scotland of this size, especially in terms of the wider aspects such as the aesthetic of the place and what it is trying to achieve in terms of sustainability.
"The rewards so far have been great, in terms of the product. It is a very exciting time."