PwC: Scottish cities outperform UK average on skills for younger workforce and housing
PwC's Good Growth for Cities Index shows three major Scottish cities improving their performance in the rankings of UK cities against last year's Index.
Scottish cities included in the latest analysis are also performing above the UK average when it comes to the ratio of house prices to earnings and skills among 16–24-year-olds.
Edinburgh leads the way for the Scottish cities, sitting 15th in the Index (compared with 19th last year), demonstrating above-average performance against indicators of economic success, including work-life balance and skills for those aged 25 and over.
---
---
Glasgow, meanwhile, was relatively the weakest of the cities north of the border, despite moving from 42nd in last year's Index to 35th this year, while also tracking above the UK average on work-life balance.
Further north, Aberdeen sits among the top six most improved UK cities within the whole Index, sitting in 31st place compared with 37th last year. Like Edinburgh, skills among those aged over 25 come in above the UK average.
The report also sets out expected economic growth for Scotland in 2023 and 2024 – predicting it to sit eighth out of the UK's 12 nations and regions in terms of growth, as well as a mixed picture for each of the three cities individually.
The Demos-PwC Good Growth for Cities Index ranks 50 of the UK's largest cities (generally considered those with populations of at least 350,000 people), plus the London boroughs as a whole, based on the public's assessment of 12 economic measures, including jobs, health, income, safety and skills, as well as work-life balance, housing, travel-to-work times, income equality, high street shops, environment and business startups.
Measuring against the priorities chosen by the public, Scottish cities tend to perform below the national average, with the exception of Edinburgh. Despite showing improvements in overall rankings, all three Scottish cities included in the Index performed below the UK average on measures including health and new business.
Jason Morris, regional market leader at PwC Scotland, said: "It's heartening to see the three major Scottish cities included in the latest Good Growth for Cities Index demonstrating year-on-year improvements in terms of their overall rankings, and particularly important that we're tracking above the UK average for two key public priorities – skills among younger Scots and housing affordability.
"It's absolutely key to stimulating economic growth that people who want to live and work within Scotland can afford to do so, and that we have a strong pool of skilled individuals to attract businesses to invest in our cities and create jobs that will allow talented and skilled Scots to thrive.
"We must also look to address the areas in which we are performing below the UK average and take heed of the fact that our expected economic growth in 2024 – while positive – also tracks below the UK's expected rate of growth."
The Index highlights that slow and / or negative growth across Scotland's cities is driven by a concentration of activity in sectors expected to struggle in coming years, including 'Professional, Scientific and Technical', and 'Agriculture, Forestry and Fishing' (expected to shrink by 0.6% and 0.23%, respectively, in 2023).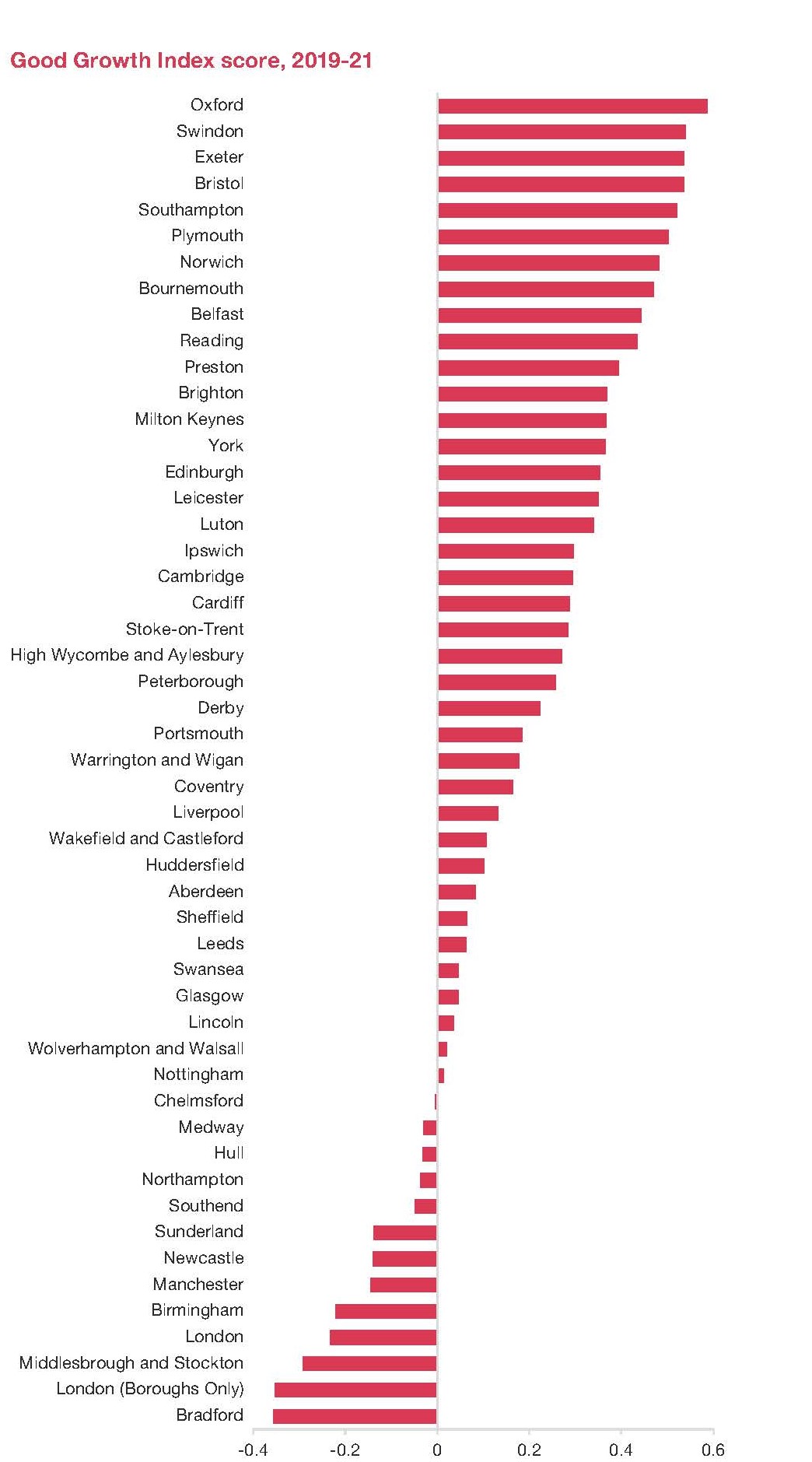 Overall, the report predicts a 0.11% fall in economic activity across 2023, with predicted growth of 0.82% in 2024 – lower than the predicted rate of UK economic growth of 0.05% in 2023 and 0.99% in 2024.
While Glasgow and Edinburgh are ranked within the top 20 cities for expected economic growth in 2024, Scottish cities are projected to be among the worst of the devolved nations in terms of economic activity in 2023 – with Edinburgh and Aberdeen expected to see a reduction in activity.
Mr Morris concluded: "The Good Growth for Cities Index solidifies the picture painted by our recent UK Economic Outlook, highlighting continuing regional growth and productivity gaps that must be addressed to allow our cities to grow and thrive.
"Of the 50 cities in the Index, Glasgow and Edinburgh are ranked nineteenth and twentieth for economic growth in 2024, reflecting the opportunities available should businesses and local government come together to capitalise on the potential that Scotland holds in key sectors, in order to create cities our people are proud to live and work in."