RSM UK poaches work from Big Four firms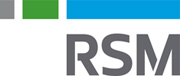 RSM UK, the UK's seventh-largest accountancy firm, paid out extra bonuses to its staff last year as it benefitted from a rise in revenue and profits after nabbing audit customers from its Big Four rivals.
Bosses at RSM were concerned at the beginning of the COVID-19 pandemic but revealed that by the end of March 2021, RSM "had achieved a better outcome than we could have hoped for".
The first posted a 6% increase in revenue to £376.4 million, up from £355.6m in 2020, while pre-tax profit, after partners had been paid, rose by 9% to £10m from £9.2 m a year earlier.
The average profit per partner climbed 25% to £500,000. RSM also refunded furlough aid and paid bonuses of £8.7m to its 4,000 staff, including a £500 gratitude bonus in March. The total bonus pool was nearly three times the £3.1m paid out the previous year.
---
---
Most of the growth came from RSM's audit and assurance division, which saw a 13% in revenue to £96.8m, The Times reports.
RSM has increased the size of its audit team by almost a third over the past two years, which it said had allowed it to start taking business from large rival firms including Deloitte, KPMG, PwC and EY.
Rob Donaldson, chief executive of RSM, said: "Our audit and assurance service line saw a strong performance in 2020-21 due to both the number of new client wins and wider organic growth. This came about as a result of a long-overdue opening of the market. Organisations increasingly realise the quality available to them outside the big four."
The firm added that during the post-pandemic dealmaking boom, RSM's corporate finance team was "busier than ever". The division reported a 22% increase in revenue to £35.4m while the only two service lines to see a drop in revenue were consulting and restructuring.