Salmon Scotland unveils ambitious European growth plan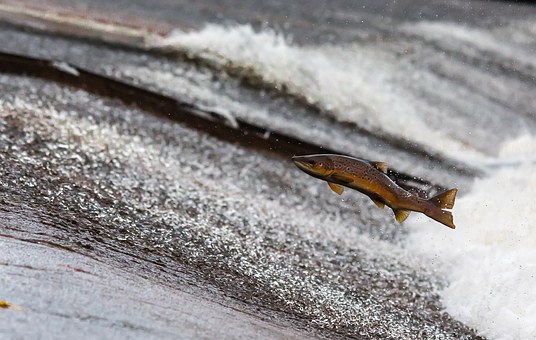 Scotland's salmon sector has unveiled an ambitious European growth plan for its premium 'Label Rouge' salmon to boost the rural economy and further enhance Scotland's international reputation for food and drink.
Label Rouge Scottish salmon carries a quality mark that recognises it as the best in the world, becoming the first non-French product to be awarded the accolade 30 years ago.
It currently accounts for 12 per cent of Scottish salmon exports, but a vision to increase this to 15 per cent by 2026 has been announced at the global Seafood Expo taking place in Barcelona this week.
---
---
While France has long been the main destination for Label Rouge Scottish salmon, the new approach aims to tap into countries such as Germany, Spain and Italy where the quality mark is increasingly being recognised. The growth plan has today been welcomed by both the Scottish and UK governments.
Overall, Scottish salmon is the UK's biggest food export, with more than 72,000 tonnes of fish worth £578 million sent to international markets last year. France led the global demand, accounting for 53 per cent of exports, but sales were recorded to a total of 54 countries. In 2022, 8,900 tonnes of Label Rouge quality salmon was produced and exported.
Farmers must meet strict quality control standards set by the French authorities to be certified by the Label Rouge assurance scheme, providing their fish with a natural protein-heavy diet that helps further enhance taste and texture. The aim to enhance this premium offering, capitalising on Scottish provenance, was unveiled in Spain by trade bodies Salmon Scotland and Scottish Quality Salmon.
The global Seafood Expo taking place is the world's largest seafood trade event, with buyers, suppliers, media, and other seafood professionals from more than 160 countries in attendance.
Tavish Scott, chief executive of Salmon Scotland, said: "Scottish salmon is an extraordinary global success story that we can all be immensely proud of, with farmers in the Highlands and islands growing the UK's largest and most valuable food export.
"Over the next three years, we want to increase the share of Label Rouge certified fish to over 15 per cent, making it the real jewel in our exporting crown. We look forward to the next 30 years of growing and supplying the very best, tastiest salmon."
Su Cox, chair of Scottish Quality Salmon, which sets the quality and promotes Label Rouge Scottish Salmon, added: "Recognised for its exceptional quality, taste, and texture, Label Rouge Scottish salmon is considered to be one of the finest salmon available globally.
"Our fish are grown under strict quality control standards and certified by an exacting quality assurance scheme that is recognised worldwide and guaranteed provenance. Through engagement campaigns we have developed this standard into an internationally recognised quality brand. This includes campaigns with leading chefs, our Salmon Clan with top 'Poissonerie' (fish shops), recipes and chef guides.
"Interest and appreciation for the quality associated with our salmon has grown significantly across European markets such as Germany, Spain, and Italy, as well as across Asia and North America. We believe we can now extend our Label Rouge exports to reach new highs over the coming years."
Mairi Gougeon, Scottish Cabinet Secretary for Rural Affairs, Land Reform and Islands, said: "Scottish salmon is rightly internationally renowned and over the last 30 years Label Rouge salmon has established itself as a world-leading example of premium quality Scottish produce.
"We are committed to encouraging investment in research, development and innovation in Scotland's aquaculture sector and we will continue to work closely with the Scottish salmon industry to further improve export opportunities and see more consumers enjoying Label Rouge salmon as a result."