Scottish accountancy veterans open new Edinburgh office
Four Scottish accountancy veterans have been recruited by Belfast finance firm HNH to open a new corporate finance office in Edinburgh to target small and medium-sized enterprises (SMEs) including family-owned companies.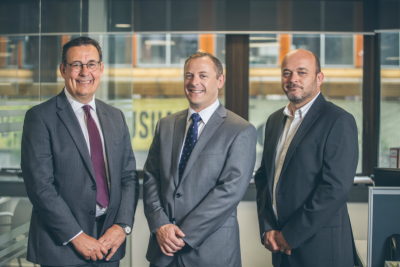 HNH specialises in advising customers in deals within the £1 million to £50m price range.
HNH has hired Neal Allen, former head of M&A for KPMG Scotland; ex-French Duncan partner Harry Linklater; Bruce Walker, who led KPMG Scotland's debt advisory team; and Chris Fawbert, former assistant director in EY's corporate finance team.
The directors are based in Charlotte Square in Edinburgh, the first office outside Northern Ireland for HNH.
The service aims to advise SMEs and family-owned firms during Mergers & Acquisitions (M&A), debt and transaction services.
The new Edinburgh team has already completed an advisory role for foodservice firm R&W Scott and a significant funding role in the distilling sector. Other clients are in financial services, manufacturing, building products and transport sectors.
Mr Allen said: "We're all excited to join HNH and build the business in Scotland by offering SMEs a new approach to corporate advice. While some business owners are rightly cautious because of Brexit and global economic concerns, many of our contacts, particularly in food services, are telling us they want to execute growth plans."
He added: "By providing senior-level advice, which was previously viewed as the preserve of larger firms, we can help SMEs grow through potential headwinds by securing the right funding options, partners and acquisition targets."
Mr Linklater said: "Having developed client relationships over time with a focus on the Scottish SME sector, I'm keen to continue working with long-established contacts within a progressive advisory focused firm. As we build our presence in Scotland as HNH, we will leverage the firm's relationships with equity and debt funders across various locations, to offer the Scottish market something new and different."
Mr Walker, who spent 25 years with KPMG, added: "The boutique business model at HNH allows us to react to clients' requirements quickly and to adapt accordingly. The entrepreneurial nature of the firm, investing in growth and expanding into new markets will, we believe, give us a natural affinity with the SMEs which make up a major part of the Scottish economy."
Mr Fawbert also said: "Over the past eight years, HNH has built a strong reputation as a leading corporate finance practice in Northern Ireland. We are excited about building upon that in Scotland, where the mix of SME advisory opportunities and public sector related work which the market produces fits well with the team's past experience and outlook."
HNH managing director, Craig Holmes, added: "This is an exciting move for HNH as we build on great foundations in Northern Ireland to extend our offering to Scotland. Assembling a team as strong as this demonstrates how confident we are in the Scottish economy. While initially focusing on M&A, HNH in Scotland will also have access to our business restructuring, tax advisory, forensic and human capital teams.
Mr Holmes continued: "The opportunity to hire four of the best networked corporate advisors in Scotland, with unsurpassed market knowledge and deal experience, and be the first to offer such senior expertise to the country's ambitious SMEs, is an innovative approach. By providing SMEs with access to a team of director-level experts with a hands-on ethos, we believe we can help our clients achieve and expand their goals."