Two Rennie Welch accountants rise to associate level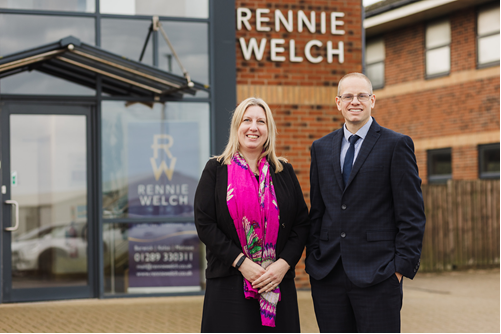 Borders-headquartered accountancy firm Rennie Welch LLP has promoted two of its colleagues, Lynn Miller and Ross Tinlin, to the senior role of associate.
The pair become the first to complete Rennie Welch's associate programme set up in 2021 to further develop talent within the firm.
Based in Rennie Welch's Berwick office, Ms Miller has worked in general practice in the local area since 2002 building her knowledge and experience as a taxation specialist supporting a broad range of clients including families, partnerships and corporate structures. She joined the firm in 2014 after securing her Chartered Accountant and Chartered Tax Adviser qualifications.
---
---
Meanwhile, Mr Tinlin joined the firm's Kelso office in the Scottish Borders immediately after graduating from high school in 2002. Over the next two decades he has developed a wealth of experience and knowledge working with a wide range of clients. He now specialises in company and charity accounts work and management accounting for a diverse range of businesses.
Headquartered in Kelso with further offices in Berwick and Melrose, Rennie Welch has a long-established reputation as an agricultural accounting and taxation specialist and, in recent years, has also built up a client base within entrepreneurial, retail, manufacturing, construction, hotel, catering and service industries, together with traditional trades.
Rennie Welch managing partner Gordon Chisholm said: "I'm delighted with the immense progress that both Lynn and Ross have made since joining the firm and I warmly congratulate them on their move to associate level. They have both been fully committed and have delivered great client service since joining Rennie Welch.
"Their success follows our investment into an associate training programme designed to ensure we can best develop our in-house talent and enable colleagues to progress towards partner level.
"Lynn and Ross are now one step closer to that achievement. I look forward to working with them as they continue their onward and upward journey within our firm."