UK Government ministers join finance leaders at St. Andrews day reception to celebrate Scottish sectors' success
UK Government Minister for Scotland Lord Offord gave opening remarks at the Scottish Financial Enterprise Dover House reception as a new TheCityUK report shows the contribution of the Scottish sector to the UK Government's ambitions of a 'high-wage, high-skilled' economy.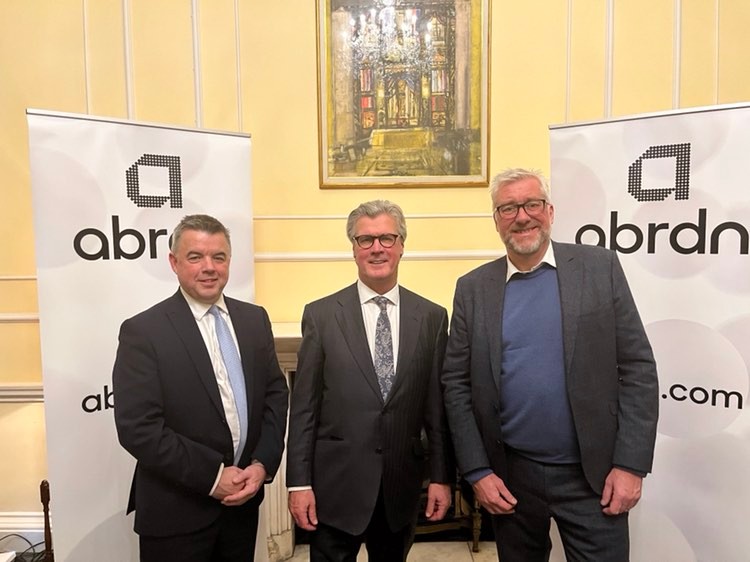 The reception was attended by Scottish Secretary Alister Jack, UK Government for Scotland Ministers Lord Offord and Iain Stewart and Economic Secretary to the Treasury John Glen.
Scotland is a leading global financial centre with a key role to play in helping to deliver the "high-skill, high-wage" economy the UK Government is pursuing.
---
---
The impact of Scotland's financial and related professional services industry to the UK economy is outlined in TheCityUK's new 'Enabling Growth Across the UK' report, published today, which highlights:
The financial and related professional services industry accounts for more than 8% of the Scottish economy, the largest area contribution outside of London.
Scotland has particular strengths in banking, life assurance and pensions. It is a renowned centre of excellence in investment management, data science and has a rapidly growing fintech community.
The industry employs 153,000 people across the nation. Notable hubs for the industry are Edinburgh and Glasgow, which together represent nearly 60% of all financial and related professional services employment in Scotland.
The industry is responsible for 8.4% of Scotland's GVA, and 5.9% of national employment
Scottish-based financial services firms with a significant presence in London and around the world are well-equipped to play a leading role in the UK government's financial services strategy, which aligns with Scotland's own strategy on areas including digitisation, fintech, net zero and international competitiveness.
The strength of this alignment was demonstrated at COP26 when the Chancellor set out plans for the UK to become the world's first net-zero financial centre. Scotland is responsible for 11% of the UK's responsible investing market, outpacing its 7% share of the conventional market and has its own ambitions to become a world leading green finance hub.
New proposals from SFE for a financial services forum with UK government will seek to ensure these capabilities are fully harnessed to support greater action on shared priorities while also providing a bigger voice for the industry in London.
The proposals were presented at the St. Andrew's Day reception at Dover House arranged by Scottish Financial Enterprise and sponsored by Abrdn.
The event was attended by industry leaders from Scotland and the City, a number of UK Government Ministers, officials from the Treasury, Scotland Office, and BEIS, and MPs from across the political spectrum.
Sandy Begbie, chief executive, SFE, said: "Following the launch of Scotland's financial services strategy in May the sector has been raising its collective ambition to lead the journey to net zero, support the economic recovery, develop skills and inclusion and respond to changing customer needs. The forum we are proposing will create a valuable new channel for regular dialogue, amplifying our voice and enabling us to better collaborate where there is common ground and challenge where there is disagreement."
Philip Grant, SFE chair and Lloyds Banking Group and chair of Lloyds Banking Group's Scottish Executive Committee, added: "These are important first steps in our clear desire to work more closely with Government in the interests of our members, the broader industry and the communities we represent. We're a global industry that aims to have a meaningful impact at local level and we want to ensure that our strategy helps to deliver a recovery and impact that benefits all people in households and towns across the country, with no-one left behind."
Miles Celic, chief executive, TheCityUK, commented: "This industry is a significant employer in towns and cities throughout Scotland providing excellent local employment and career opportunities. As part of our strategy to return the UK to being the number one international financial centre in the world, we want to increase private and public investment in regional skills and infrastructure and further boost our successful regional and national clusters of financial and related professional services expertise. It is through playing to our national strengths in industries like ours that the goal of a high-skill, high-wage, high-productivity economy can be realised."