And finally… objet d'art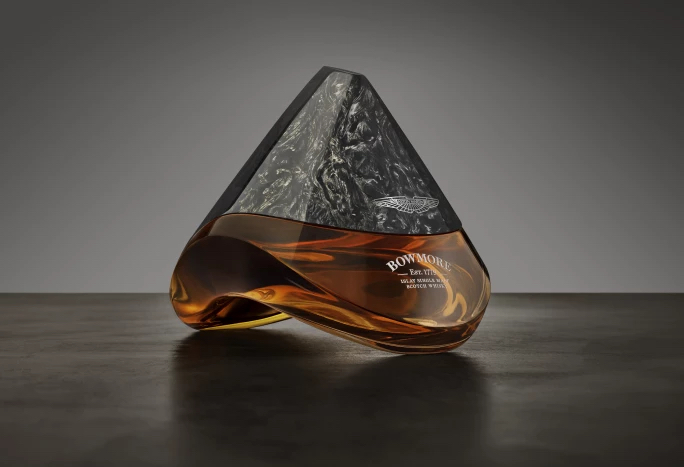 Bowmore Single Malt Whisky and Aston Martin are partnering for an exclusive auction this spring, offering a unique decanter containing a special assemblage of the 52-year-old vintage whisky.
The decanter has been created as a totally unique "objet d'art" which will never again be repeated with a one-off blend of Bowmore's oldest vintages from the 1960s, named the Bowmore ARC-52 Mokume Edition.
Crafted by master blender Ron Welsh, the whisky is housed in a vessel designed by Aston Martin, inspired by the black rocks in the bay of Loch Indaal, home to the Bowmore Distillery.
---
---
The auction will be hosted by Sotheby's in London on 26 May 2023, with an estimated price range of £140,000-220,000. The winning bidder will also be invited for a unique experience at Bowmore Distillery and a drive in the limited-edition Aston Martin DBX Bowmore Edition, Aston Martin's first luxury SUV.
All proceeds will be donated to a dedicated fund to support the people of Islay and the local distilling industry.
This unique auction follows successful collaborations between Bowmore and Aston Martin. In 2022, the ARC-52 decanter was unveiled, merging the engineering excellence of Aston Martin and the craftsmanship of Bowmore. Last year, a bottle of Bowmore Onyx 51-Year-Old 1970 sold for £400,000 at Sotheby's.