Brydon review recommends independent audit profession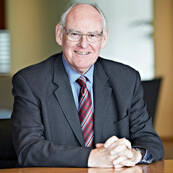 The Sir Donald Brydon CBE Assess, Assure and Inform: Improving Audit Quality and Effectiveness report has recommended that auditors should be made independent from the larger accountancy profession.
The report has emphasised the need for such a move in an effort to "stimulate improved quality and effectiveness of audit in the UK".
The government-backed review stated that "audit is not broken but it has lost its way and all the actors in the audir process bear some measure of responsibility." The report warned that "urgent reform" is needed to rebuild confidence in the sector following the recent collapses of large companies such as Carillion, BHS and Thomas Cook.
---
---
The Brydon review also arrives after last year's review of the Financial Reporting Council (FRC) by Legal & General chairman Sir John Kingman, which called for the audit watchdog to be replaced by a new regulatory body.
The recommendations also include:
Redefinition of audit and its purpose
The creation of a corporate auditing profession governed by principles
The introduction of suspicion into the qualities of auditing
The extension of the concept of auditing to areas beyond financial statements
Mechanisms to encourage greater engagement of shareholders with audit and auditors
A change to the language of the opinion given by auditors
The introduction of a corporate Audit and Assurance Policy, a Resilience Statement and a Public Interest Statement
Suggestions to inform the work of BEIS on internal controls and improve clarity on capital maintenance
Greater clarity around the role of the audit committee
A package of measures around fraud detection and prevention
Improved auditor communication and transparency
Obligations to acknowledge external signals of concern
Extension of audit to new areas including Alternative Performance Measures
The increased use of technology
Ultimately, Sir Brydon, who is also the Scottish chairman of Sage and former chair of Royal Mail and the London Stock Exchange, has advocated for the establishment of a standalone audit profession, governed by its own principles, qualifications and standards.
Commenting on the review, an FRC spokesperson said: "The FRC will study Sir Donald Brydon's report with interest. Many of his recommendations, if accepted by the government, will have significant implications for the FRC in respect of our activities and resource requirements.
"We have already implemented a number of the recommendations of the independent review of the FRC and anticipate being involved in delivering the broader reforms to the UK audit market that the government has initiated."
The full review can be found here.